This beautiful Paint Chip Mosaic Art is a great way to use up all those paint chips and paper scraps that you have lying around your craft stash. Arranged into a lovely mosaic pattern, this artwork would look beautiful in your dining room or kitchen.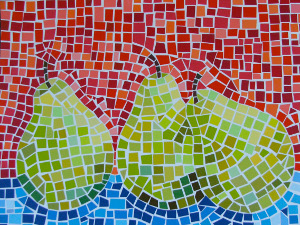 Materials:
Poster Board
Scissors
Elmers glue
Pencil
Saral transfer paper
Paint chips or scrap paper
Ruler
8 x 10 Frame
Instructions:
Collect free sample colors from department stores or paint stores. Choose a variety of shades. For example, if one of the colors to be used it's green then choose as many different variations of green ranging from light to dark.



Pre cut your free color samples into 1" squares or smaller (this step is optional if you prefer you can cut as you go). Keep in mind that this little squares don't have to be of a perfect measurement. They can be re cut to fit a specific area later on.



Use your picture frame insert as a template to cut the poster board so that it can fit into the picture frame. Following the manufactures instructions transfer the pear pattern to the poster board.

Start gluing your colors with Elmer's glue. Do small sections at the time as your schedule allows you to. Paper mosaic can be a little time consuming but is an inexpensive form of art that is very gratifying to see when it's done.



Frame art.
Your Recently Viewed Projects