Light and Lacy Scarf
Spring is in the air. While the days are getting warmer, the mornings and evenings still carry a chill. This scarf is the perfect answer. It provides just enough weight for those chilly evenings, but is light enough for the warming days of spring. It would make a lovely accessory knitted in springtime pastels. Treat yourself to this lacey, feminine scarf from Authentic Knitting Board.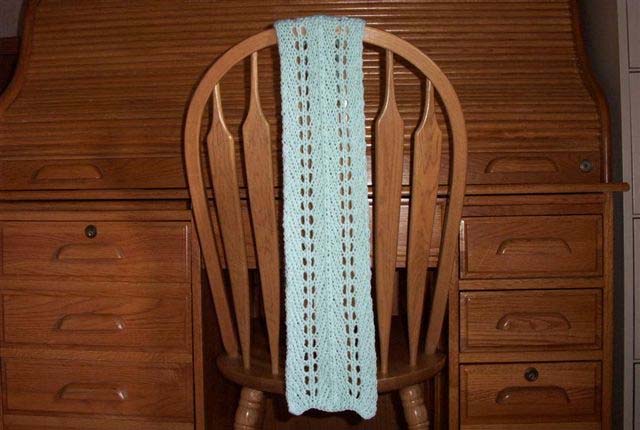 Materials:
Knitting Loom: Small gauge double sided knitting board with at least 21 pegs set at 1/4" spacer setting. The 10" Authentic Knitting Board was used in the sample.
Yarn: 220 yards of sport weight yarn. Red Heart Soft Baby was used in the sample.
Tapestry Needle
Knitting tool
Crochet hook
Stitch markers (2)

Gauge: 14 stitches and 14 rows on a 4"x 4" swatch in stockinette stitch
Abbreviations: Cast on—CO, Bind off—BO, Knit with stockinette stitch—K

Pattern Notes: Making the chevron pattern is very simple. It consists of shifting loops to different needles, wrapping the board, and then picking over. Follow the steps below carefully, and you will be on your way to making chevrons. Once you have gone through the steps once, and see what you are doing, you will find this very easy.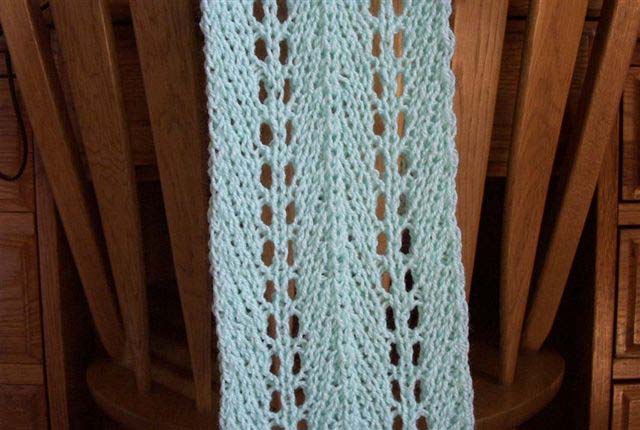 The first peg on the left is #1. Move loop #2 to peg #1. Move loop #3 to Peg #2. Move loop #4 to peg #3. Move loop #5 to peg #4. Peg #5 will be empty. Peg #1 will have two loops.

Move loop #10 to peg #11 (It is marked with the stitch marker). Move loop #9 to peg #10. Move loop #8 to peg #9. Move loop #7 to peg #8. Peg #7 will be empty. Peg #11 will have two loops.

Move loop #12 to peg #11 (It is marked with the stitch marker). Move loop #13 to peg #12. Move loop #14 to peg #13. Move loop #15 to peg #14. Peg #15 will be empty. Peg #11 will now have three loops.

Move loop #20 to peg #21. Move loop #19 to peg #20. Move loop #18 to peg #19. Move loop #17 to peg #18. Pin #17 will be empty. Pin #21 will have two loops.

Turn the board around and repeat steps 1-4. Each side should look exactly alike.

Wrap the board as usual. Lift all the bottom loops over the top loop so that only one loop remains on each peg. Do not pick over the pegs that have only one loop on them. This picture shows a close-up view of what the chevron lace pattern will look like when knitted. Finished size is 6" x 45"
Instructions:
Place a stitch marker on peg #11 (counting from peg #1 on the left).

CO on 21 pegs with the stockinette cast on.

Row 1 K

Row 2 K

Row 3 Follow Chevron Lace Pattern

Row 4 K

Row 5 K

Repeat rows 3-5 until scarf measures 45 inches or desired length, ending with row 5.

BO both ends. Weave in any loose ends. Add fringe if desired.
Love loom knitting? Be sure to check out our collection of 19 Loom Knitting Patterns for even more great ideas!
Your Recently Viewed Projects
Join our community of 5 million crafters!
Get free craft projects, exclusive partner offers, and more.
Thank You for Signing Up!
There was an issue signing you up. Please check your email address, and try again.