Water Bottle Room Divider
Add depth and dimension to any room with a Water Bottle Room Divider from Heidi Borchers. This craft is extremely inexpensive to make and looks store-bought. Recycled plastic bottle crafts are a great way to reduce, reuse and recycle!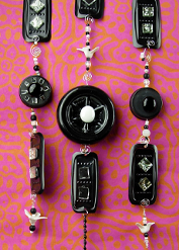 Materials:
Plastic drink bottles
Craft knife
Scissors
Acrylic paint (colors of your choice)
Cosmetic sponge (for applying paint)
Drill with 1/16″ drill bit
Hole punch
22 gauge wire (colors of your choice)
Round nose pliers
Wire cutters
Beads
Mirror and tile pieces
Instructions:
I love to find plastic drink bottles that have intriguing designs embossed onto the sides! I don't drink sodas so I ask my friends to keep their eyes open for fun bottles!



Use a craft knife to puncture the side of the bottle and cut apart.



Use scissors to cut out the side panel pieces and to clean up the cut edges of the bottle tops and the bottoms.



Apply acrylic paint with cosmetic sponge by dabbing onto the inside (wrong side) of the plastic bottle. It may take several coats of paint to get a solid opaque coverage.



Use the same painting procedure to paint the inside of the bottle bottom.



Arrange the bottle pieces in desired pattern. Punch or drill holes into the pieces.



To create the swirl in the end of the wire, use pliers to roll end and then continue to roll with fingers until you have created swirl of desired size. Cut wire to desired length to join two pieces together.



Insert cut end of wire through punched hole in water bottle. Loop wire around swirl to secure.



Add beads to wire.



If desired add other embellishments to wire. I found these doves at the dollar store. I drilled through them to turn them into beads.



Secure both ends of beaded and embellished wire to bottle pieces. Continue add more pieces to create desired length. I join my pieces together for wall hangings by looping the top wire onto a dowel stick.



Here's a close up of a bottle cap. I glued mirror tiles and a flat backed marble to the top.



On the bottle bottom, I glued a white flat backed marble.



On the bottle side piece, I glued vintage look mirror tiles.



You can arrange rows and rows of these to create wall art or keep going and make a room divider!



For a comprehensive video tutorial of this project, check out How to Make a Drink Bottle Room Divider.
Your Recently Viewed Projects