Recycled Magazine Floral Wreath Easy Paper Craft
This Recycled Magazine Floral Wreath Easy Paper Craft will help you use up all those old magazines in a very stylish way. Get your home ready for spring cleaning (and decorating!) with fun DIY paper crafts like this one. Crafting with magazines is also a great way to celebrate Earth Day with your family. Kids will love ripping out pages and helping sort the paper. DIY craft projects are a great excuse to get the entire family together, turn off the television, and work on something amazing. Gather everyone together, round up all of your old magazines and get ready to create something beautiful and fun.

Materials:
Smoothfoam 12" x 1" Disc
Aleene's Turbo Tacky Glue Pen
Old magazines
Buttons - various sizes, shapes and colors
Scissors
Aluminum foil
Foam sponge
Green acrylic paint
Double-faced satin ribbon in green
Tape measure or ruler
---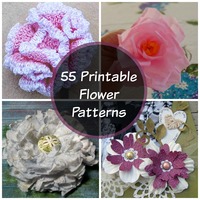 Paper flowers are just the beginning! If you love to make flowers, there are so many DIY craft projects to try. Whether you love to crochet or prefer working with recycled materials, you can't go wrong with this list of 55 Printable Flower Patterns. Create a rose, iris or daffodil using this list - there's no water required. Even if the weather is cold or there's no rain in the forecast, you can create your own garden using these flower crafts.
---
Instructions:
Cut out petals. Carefully cut or tear out magazine pages. As orange is my color-du-jour, I chose pages with that color plus a few in shades of green. Vertically fold the magazine page in half. Fold it the same way again. With each petal cut, you will automatically get 3 more due to the folding of the paper. I chose to make my petal round at the top and tapered at the bottom. If you would rather have a daisy look to your flower, make the top of the petal pointed. The key here is that each petal has tapered bottom and is approximately 2" tall. For a slightly rustic look and to add a bit more texture, lightly crumple the petals in your hands.

Glue petals to the button. Pinch in the paper at the tapered end of the petal. Add a few dots of glue and place on the back of the button. Each flower should have 5-6 petals. To keep the buttons from sticking to your craft table, place them on a piece of aluminum foil and allow to dry.

Paint Smoothfoam disc. Squirt some paint onto the foil and paint one side and the edges. Allow to dry. Paint the other side and allow to dry.

Add ribbon loop. Cut a 24" piece of ribbon. Glue ends together. Allow to dry. Glue to top of disc. Allow to dry.

Glue down flowers. Arrange the flowers on the disc. Once you are satisfied with the arrangement, add a few dots of glue to the center of the back of each flower and press into place on the disc. Allow to dry.

Your Recently Viewed Projects
Join our community of 5 million crafters!
Get free craft projects, exclusive partner offers, and more.
Thank You for Signing Up!
There was an issue signing you up. Please check your email address, and try again.