Blooming DIY Felt Cactus Pattern
This cactus craft is way too cute to pass up.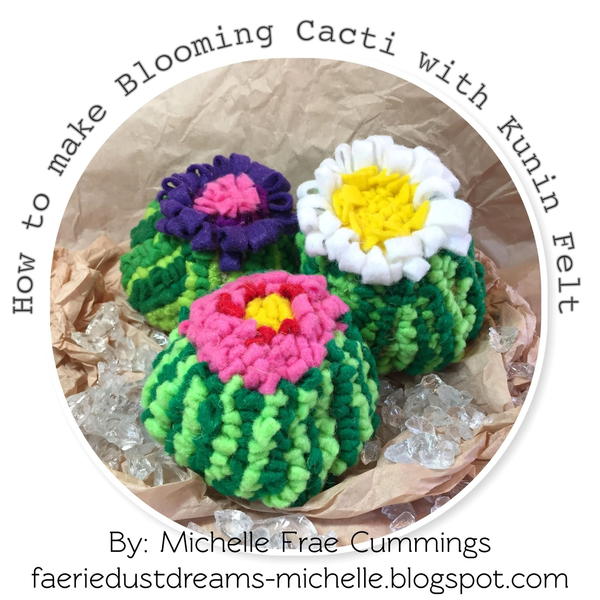 Cactus crafts are trending, and this project is one you won't want to pass up. This stunning project is great for anyone who's a fan of rug hooking patterns! Use the same basic technique as you would with rug hooking but instead you'll use felt strips and a shaped base to make a cactus. This is a cactus pattern that'll never die! Admit it, you know someone who's killed a cactus. Maybe it was you! This way, you can decorate with this trendy house plant without having to worry about taking care of it. And felt crafts are such a delight. You'll adore this project!
Materials List
Kunin®  9" x 12" Classic Felt in Pirate Green, Neon Green, Cotton Candy Pink, Red and Yellow.
Burlap
Embroidery hoop
3.50 MM Crochet hook
Scissors
Black marker
Needle and thread
Doll stuffing
Instructions
I love all things to do with succulents and cactus. I especially love their vibrant blooms!  Here I have created "thorn-free" cacti you can handle easily and display all year. Enjoy!
Cut your felt length wise into 1/4" strips.

Place your burlap into your hoop and tighten until the burlap is taught. I used a 6" hoop, but you can use any size as long as the burlap is larger than the hoop.
 Draw your pattern with the marker. I generally don't label the colors but I did for you here. The lines in the greens section can help you in the beginning until you get the hang of it.

If you have ever done rug hooking, this is similar. Always start in the center of your project. Here we are starting with yellow. Push your hook through the burlap.

On the underside, hook a piece of felt and gently pull it through. Repeat until you have filled in the circle for the yellow felt.  If it's hard for you to grip the crochet hook, try wrapping the handle with a few rubber bands as I did.

After each strip of color or felt, trim off the excess carefully with your scissors.
Continue with rest of the colored felt. You can make your loops tight or long. If you mess up. just carefully pull it back through and start again.

The pattern for the sides of the cactus are shown above. When you are done, remove from the hoop and trim the burlap 1" from the project edge. Cut along the dotted lines to the center.

Turn your piece over and pinch the raw edges of the burlap together then sew shut. Do this all around.

Turn your piece inside out and stitch closed any burlap exposed areas.

Eyeball the size of the base of your cactus and cut from felt.
Fill cactus with stuffing and begin stitching base felt to the bottom, tucking in the excess burlap as you work.
Done!
Soft, vibrant, easy to handle blooming cacti!
Display in a dish filled with rocks or crystals!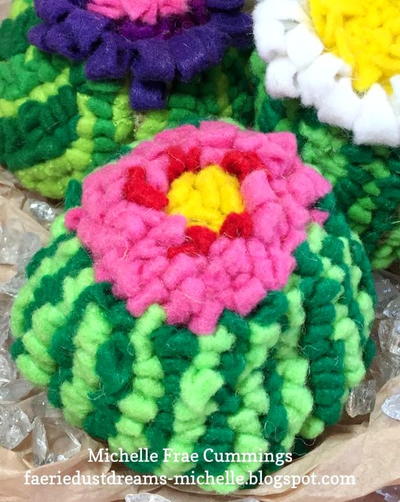 This project is part of our National Craft Month 2018 celebration! Find a new project like this one released each day in March. View the collection:National Craft Month 2018
Have you ever tried rug hooking before or other crafts like this one? What do you think?
Your Recently Viewed Projects
Join our community of 5 million crafters!
Get free craft projects, exclusive partner offers, and more.
Thank You for Signing Up!
There was an issue signing you up. Please check your email address, and try again.