Small Crochet Bunny Peeps
Fill your Easter baskets with a cute little crochet bunny peeps compliments of Alicia Kachmar of Create! You need a small amount of worsted weight yarn and an F hook. For a large peep, check out this Easter crochet pattern. If you are looking to add crocheted flair to your Easter décor, make these free crochet patterns for bunnies immediately. Perfectly simple to work up and looking lovely in just about any pretty pastel yarn color, these cute little stash busters could easily be crocheted for an Easter basket surprise or pinned to your jacket. The possibilities are endless for these bitty bunnies.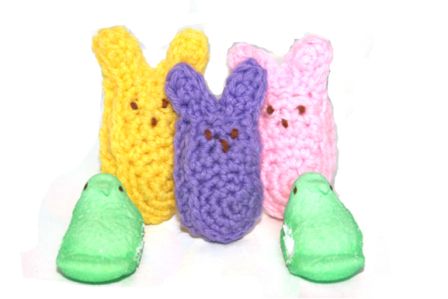 Materials:
Crochet F hook
Any worsted weight yarn in bunny color and brown (I use Red Heart 100% acrylic)
Needlepoint needle
Polyester fiber filling
Abbreviations:
Ch: chain
Sc: single crochet
Sl: slip
Hdc: half double crochet
Dec: (decrease) pull up a loop in next 2 sc, yarn over (YO) and draw all 3 loops on the hook

Instructions:

Ch 2; 6 sc in second ch from hook; join (6 sc)
Ch 1; 2 sc in same stitch and in each sc around; join (12 sc)
This forms the bottom circle of the body. The top half is worked by moving across and turning at the end of each row.
Ch 1 (do not turn; right side is facing you) sc into next stitch, 2sc into next, sc, sc. (5 sc)
Ch 1 turn; Sc across row. (5 sc)
Ch 1 turn; Sc, dec, sc, sc. (4 sc)
Ch 1 turn; Sc across row. (4 sc)
Turn the work so that the right side is facing you without making a Ch 1 turn.
Ch 5 (ear); sc, hdc, hdc, hdc, sl stitch into next sc on the top of the body (head)
Ch 5; sc, hdc, hdc, hdc, skip the next sc and sl stitch into the last sc. Finish off.
This is the "front" of the bunny. With a brown yarn and needlepoint needle, make two eyes and a nose. There's no exact way to do this, but I made each by coming up with the thread and going down vertically in another spot very close by. It took me a couple tries to get it right. You could also use beads to make more uniform eyes and nose.
Repeat the above instructions for the "back" of the bunny, except do not finish off. Place the wrong sides together:
For the body, single crochet into the inner loops to give the bunny some depth. When you're working the part of the bodies that aren't the circles, there are no inner or outer loops; single crochet here.
For the ears, slip stitch together.

Stuff the body, but not the ears, when he is about 2/3 stitched together. Finish off.

Your Recently Viewed Projects