Crochet Doll Set
This is a crocheted set that I made for my granddaughter's little doll. It consist of a hat, a cardigan and booties. I recently started doing crafts again and am enjoying it tremendously; having done many projects in the past.
Materials:
Wool or yarn of your choice. If you want to follow the exact size indicated, rely on a gauge sample. If not, the size will vary. Also, depending if you work a tight or loose stitch will also vary the size of your finished project.
Crochet hook AERO 4.00 or equivalent
Gauge: Chain 13, make 12 sc and 4 rows = 1 inch
Doll is 10 inches tall

Abbreviations:
ch = Chain
sc = Single
dbl = double
hdbl = half-double
sl = slip
st - stitch
(s) plurial of a stitch
Steps:
Hat:
Chain 18 plus one, sc in back of stitches only which makes rib effect, make 42 rows.

When done, join the two sides together with slip stitches which will give you a tube.

At the end of the tube where you are doing your last sl st, ch one and make a sc around the tube = 60 sc (this will make the decorative rim), ch 4 ; one dc in *3sc, ch 2 dc in 3 sc* repeat to the end, join with sl st cut off and weave in the end.

Cut a 12 inch piece of yarn, slip it in and out at the other end of the tube, pull tight and tie with a bow.

Turn hat inside out , make a fold of the rim onto the hat.

Finished.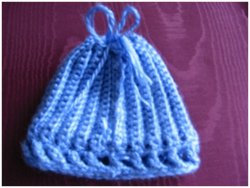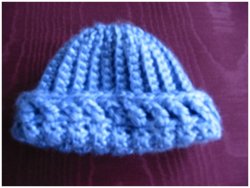 Booties:
Ch 4, sc in next 3 ch(s), make 3 additional sc(s) in last chain, do not turn, you will be working on the opposite side of chain; 1 sc in same chain again and in next 2 ch(s) plus add three for a total of 12 sc(s). This makes an oval and you will work around this oval, joining each row. "Single crochet around the 12 sc(s) and join with sli st and chain one". You will do same for 6 rows.
7th row – hdc in 6 sc's. this will be the heel, sl st loosely in next 6 sc(s) (front of bootie) join with slip stitch, ch. one.
8th row – hdc in 6 hdc(s) (heel), sc in next 6 sli st(s), join, chain one.
9th row - hdc in 6 hdc(s) (heel), sc in next 6 sl sti(s), join, chain one.
10th row – one row of hdc(s) all around, sl st, chain one.
11th row – one row of sc all around, sli st, cut slip through. Finished.
Cardigan:
Made in one piece which looks like a cross with a whole in the middle. Chain 41.
1st row – sc in the back loops only of st(s) for the rest of the 40 chain, ch one and turn.
2nd row – sc in back of all 40 sc(s), ch one and turn
Rows 3 to 6 do the same as row 2
7th row – sc in back loops for 18 sc(s), loosly slip stitch 4 sc(s) (shoulder), sc in next 18 sc(s)
8th ,9th,10th do same as 7th.
11th row - sc in back loops of next 18 sc(s), ch one, turn
12th to 16th do the same as 11th, ch one, turn
17th row – sc in back loops only of 18 sc(s), then make a further chain of 22, ch one, turn
18th row – sc in the 22 ch(s) and continue in the back of the rest of 18 chains, total 40. Chain one, turn
19th row – sc in back loops of ch for 18 sc(s); sl stch loosely in 4 sc(s), sc in back of rest 18 sc(s,
ch one, turn
20th, 21st, 22nd, do same as 19th, ch one, turn
23rd to 28th row – sc in back loops of chains for the 40 sc(s), don't forget to chain one and turn every time; on row 28th, cut yarn and slip through.
Join sides together with a needle and yarn slip stitching, leaving opening of 18 stitches for sleeves (arms).
Do a row of single crochet around the whole body making sure that you do 2 extra sc(s) in the corners, this makes a nice rounded corner.
Arms Tie yarn at joining point under arm, make 18 sc(s), join by sl.st, chain one, do not turn. Sc for 2 more rows joining and chain one at each but not turning. On the last row, instead of chain one, chain six, skip one sc and double crochet in 3rd sc., chain 2, double crochet in 3 sc, chain 2 etc. slip stitch in first chain 6. Next, sc in all around making 18 sc(s), sl st and cut yarn. Do same for other sleeve. Work all loose yarns in garment. Finished.
Your Recently Viewed Projects
Join our community of 5 million crafters!
Get free craft projects, exclusive partner offers, and more.
Thank You for Signing Up!
There was an issue signing you up. Please check your email address, and try again.