18 Free Crochet Hat Patterns For Men
Your essential collection of men's crochet beanie patterns and other hats.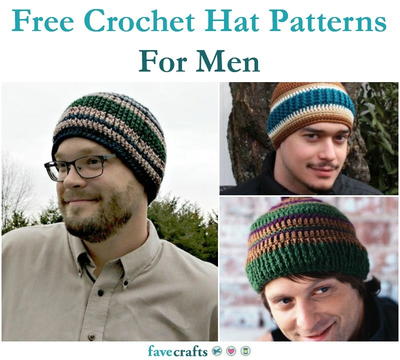 Free crochet hat patterns for men are fantastic gifts, especially during the holiday season! Find some patterns for hats that every guy in your life will love. The projects featured in this collection of free patterns will suit anyone's style. Whether he loves camouflage or monochromatic beanies, you'll find a men's crochet hat to try today.

Looking for some easy and free crochet patterns? Hats are a great place to start. They take less time to complete than afghans or sweaters and often involve less complicated techniques. Patterns for hats are also shorter and more manageable if you're a beginner. Best of all, you can make a bunch in a short period of time. Free crochet hat patterns for men also make great gifts and don't require a ton of extra detail.
Table of Contents
Free Men's Crochet Hat Patterns
If you're new to the world of free crochet patterns for hats, start with a beginner project. Once you've mastered the basics, move on to more complicated projects that incorporate different colors and more complicated motifs. Think outside the box and try patterns that aren't just the usual beanie. If you're sick of boring crochet hats, patterns for ear warmers and other novelty hats might be more your style. Create a topper to celebrate the holiday season and give one to your guy in the days before Christmas. That way, he can wear his hat on Christmas morning. Also consider creating a matching scarf to go with his new hat. 
Men's Crochet Beanie Pattern
Free crochet hat patterns for men don't have to fit a particular mold, but sometimes a traditional pattern is the best option. Most men are fans of beanies, and we have tons of crochet beanie patterns below. 
Slouchy Beanie Crochet Pattern for Guys
Take your beanie to the next level with a little bit of slouch. This small addition to a beanie can really upgrade a look. If you have a little more crochet experience, consider looking for free crocheted hat patterns that have a looser fit. It's a fun way to change the look of a traditional hat without a ton of effort.
Elevated Honeycomb Crochet Hat
Hello, texture! This pattern is rich with bold stitchwork, making it a fun project for experienced crocheters to make and give.
Make a super slouchy hat! This pattern seems so perfect for a high school aged boy of a certain aesthetic to keep his head warm in the cooler months.
What fit do you prefer for your hats: tight or slouchy?
Your Recently Viewed Projects