"We've Got You Covered: 25 Crochet and Knit Throws" free eBook from Red Heart Yarns
We've Got You Covered: 25 Crochet and Knit Throws free eBook from Red Heart Yarns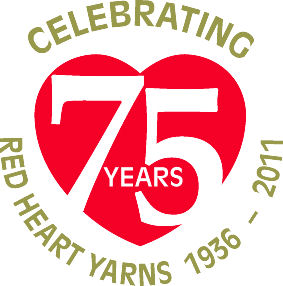 With 25 throws to choose from, you're sure to find the perfect crochet or knitted afghan patterns to cover up with when things get chilly. Choose your favorite crochet afghan patterns out of the 25 we offer in this eBook, pick up your favorite colors of Red Heart Yarn from Coats & Clark, and get started making crochet blankets. No matter what your skill level, we've got something for everyone. There are six easy crochet afghans and two easy knitted afghans, plus 15 intermediate crochet throws. And for you expert crocheters, we have two throws that you'll love!
Learn how to crochet a blanket using multicolored yarn and three solids. To make the Crocheted Multicolored Throw (p. 7), you need to know how to single crochet and double crochet and you'll be making a crocheted throw in no time. And if you wanted to learn how to crochet, afghans, especially smaller ones like these throws, are a great place to start. Whether you choose the Easy Crochet Diamonds Throw (p. 9) or the Textured & Tonal Easy Crocheted Throw (p. 17), the easy crocheted afghan patterns in this free eBook will keep you happily crocheting blankets and throws.
Talk about one giant granny square pattern! The Weekend-Wonder Giant Granny Square Throw (p. 11) can be completed in a weekend. This three-color afghan is made with Super Saver Chunky, so it crochets quickly, giving fast results. The Triple the Texture 12-Block Throw (p. 19) has some blocks that resemble crochet granny squares, some with crocheted bobbles, and some that look like a denser version of granny squares patterns. The Touch of the Countryside Floral Crochet Throw (p. 31) is a beautiful dimensional flower that resembles granny square patterns of the past. For a warm crochet blanket pattern, give the Crochet a Fan Throw pattern (p. 33) a try. With the trendy gray background, the bright colors pop!

You'll love knitting afghans once you've made the Arrowhead Lace Knit Throw (p. 8), an easy knit afghan. A simple four-row repeat makes a beautiful knitted afghan pattern. If you know the basics of knitting, you can learn how to knit a blanket with a lacy pattern of yo, slip 1, k1, psso and k2togs. (And for those of you who don't know, those are basic decreases that form differently slanting stitches.) Knitting blanket patterns is a great way to get a lot of practice a technique like decreasing in knitting – you'll be a pro by the time you're finished. Plus, you can practice your pattern stitches by making the Knit Cables and Diamonds Throw (p. 6), another one of the afghan patterns to knit in this free eBook. The 16-row repeat is easy to master, and since you work with two strands of yarn held together, this is a quick knit afghan.
The Bold and Beautiful Catherine's Wheel Crochet Throw is filled with color and makes a great crochet afghan blanket. Specialized stitches give it a lot of dimension, while working with three solids and a multicolored yarn give it visual dimension as well. The American Spirit Stars and Stripes Throw (p. 22) is one of the great intermediate crochet blanket patterns for the patriot in your life, for the kids, or for any stargazer. For the crochet ripple afghan lover, try the Crochet Ripple Three-Color Afghan (p. 36). While classified as intermediate, this would be a great project for a crocheter looking for something a little more challenging than the easy crochet afghan patterns. If you like the bold look, the Updated Amish Bars Throw (p. 37) combines beautiful pattern stitches with bright colors that will remind you of an Amish quilt pattern. For another colorful throw, check out the Crochet Stitch-Sampler Throw (p. 44). This multi-block afghan crochet pattern gives you practice with five different stitches so you can create a cozy crochet blanket.
Another classic crocheted afghan pattern was inspired by the colors used by the Amish in their quiltmaking. The Crocheted Amish Quilt-Inspired Throw (p. 58) is worked in diagonal rows from corner to corner. If you're experienced, it's great to learn how to crochet a blanket in this manner because you may find other crocheted afghan patterns made in this way. Another quilt-inspired afghan is the Dresden Plate Crocheted Throw (p. 63). The 12-section Dresden plate designs, or petals, are actually worked in fan shapes of three petals, then joined together to create the Dresden plate motifs. Then the border is worked around them. This is a crochet afghan pattern for the serious crocheter.
Colorful doesn't begin to describe this throw! With 11 yarn colors used, this octagonal crochet blanket (p. 13) is worked from the center out, so there's no crocheting blocks together afterward. Once you've completed your last round, you just need to weave in your ends and you're done! Or crochet a blanket in two colors - a bright center with diamonds and an easy border to frame the diamonds in the center of the Easy Crochet Diamonds Throw (p. 9). And if you're looking for a more elegant afghan crochet pattern, try the Sophisticated Pomp-Edged Crocheted Throw (p. 16). The center is crocheted in an easy two-row repeat – it's the border that adds the "pop". The border is worked with Pomp-a-Doodle yarn which has a pom-pom design so it's fluffy, soft, and oh-so-striking on the edge of a crochet afghan blanket. And don't miss the five-color Colorful Twists and Turns Crochet Throw (p. 24) – it's for a crocheter who has some experience. So is the one-color afghan pattern Medallion Circular Crochet Afghan (p. 27). Truth is, there are so many crochet blanket patterns you'll love in this free eBook, it's tough to pick a favorite.

With your free copy of the We've Got You Covered: 25 Crochet and Knit Throws eBook, you can also subscribe to our Quick and Crafty newsletter to become part of the FaveCrafts community. In subscribing to the newsletter, you will receive
Five weekly emails with free crafting patterns, tips, collection pages, videos and more + a weekly wrap-up
Chances to win books and products from our weekly giveaways and contests.
New FREE patterns and eBooks made available to you throughout the year.
Access to our free pattern library full of over 1,000 of free crafting patterns.
The opportunity to share ideas and help others in the crafting community.
From one-color knitted and crocheted afghans to multicolored crocheted throws, the color options are endless. With the amazing selection of Red Heart yarns and the fact that you can find it in so many local stores, you're sure to find the color combination that works perfectly in your home. So download our free eBook, We've Got You Covered: 25 Crochet and Knit Throws, courtesy of Red Heart Yarns, Coats & Clark, and of course FaveCrafts.com.
Let us know which of the projects in this eBook is your favorite by logging in and leaving a comment below! Thanks!
Your Recently Viewed Projects
Join our community of 5 million crafters!
Get free craft projects, exclusive partner offers, and more.
Thank You for Signing Up!
There was an issue signing you up. Please check your email address, and try again.