Rub A Dub Bath Shelf
Bath time is more fun for kids with this adorable rubber ducky shelf from Krylon to help organize towels, soap and several small bath toys.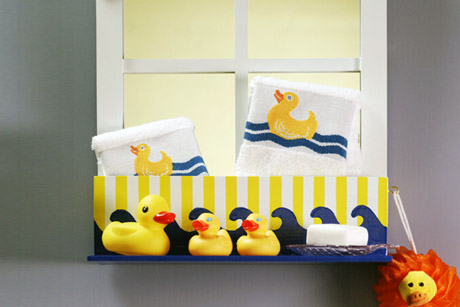 Materials:
Krylon Indoor/Outdoor Primer - All-Purpose White (#51315)
Krylon Indoor/Outdoor Paint - Gloss White (#51501)
Krylon Indoor/Outdoor Paint - True Blue (#51910)
Krylon Indoor/Outdoor Paint - Sun Yellow (#51806)
Krylon Acrylic Crystal Clear - Acrylic Crystal Clear Gloss (#51301)
Krylon Looking Glass®- Mirror Like Paint - Mirror Finish (#9033)
Unfinished wood window planter (Walnut Hollow® #11222)
7" x 14"x 1/4" wood for shelf
3 1/4" x 3 1/4" x 1" wood for sun
Sandable wood filler
(1) 12 5/8" square piece of 1/8" thick glass
(6) 1" flat head wood screws
Yellow wood glue
(4) mirror clips and screws for 1/8" thick glass
(2) saw tooth hangers with nails
(1) brass cup hook
Wash cloth and hand towel with "rubber ducky" motif
(1) large and (2) small "rubber duckies"
"Rubber Ducky" scrubber
Soap dish and soap
Glue
Newspapers
Fine and very fine sandpapers
Tack cloth
2" wide blue painter's tape
Contact paper
Scissors
Yardstick
Black marker
Glass cleaner & paper towels
Saw
Drill with bit to drill holes for 1" screws & countersink bit
Screwdriver
Coping saw
Plastic bags for masking
Instructions:

Using a coping saw, cut sun shape from 3 1/4" square of plywood.

If needed, apply wood filler to fill in any gaps on planter, shelf and sun. When dry, sand all surfaces with fine and then very fine sandpaper. Clean with tack cloth.

Attach wood shelf to bottom of planter with screws.

Spray planter and sun with White Primer. Sand with very fine sandpaper and clean with tack cloth. Spray planter Gloss White. Let dry.

Mark and cut (17) 1/2"wide by 4 1/8" long strips of painter's tape. Place the first piece on the center of the planter front starting at the bottom and extending over the top slightly into the inside. Equally space 12 more pieces of tape along the front so that about 1/2" is left bare at each end. Place 2 pieces on each end dividing each end into 5 equal spaces. Burnish all tape edges with a fingernail. Mask planter top, inside of box and shelf with plastic bags and painter's tape. Spray strips and sun with Sun Yellow. Let dry. Remove tape.

Adding waves. Draw a wave pattern on contact paper with marker and cut out. Center contact paper pattern on front of box, aligning the pattern top with the box top and wrapping around sides. Remove contact paper backing and apply to box, burnishing all tape edges with a fingernail. Mask all areas not to be painted blue with plastic bags and painter's tape. Spray unmasked areas with True Blue. Let dry. Remove bags and contact paper.

Following instructions, clean glass and spray reverse side of glass with Looking Glass Mirror-Like Paint. Let dry.

Center and mount mirror to back of planter using mirror clips.

Install both sawtooth hangers to top back side of planter.

Screw cup hook into right hand side of mirror near bottom.

Place cloth and towel in box, accessories on shelf and hang scrubber from cup hook.

Your Recently Viewed Projects
Join our community of 5 million crafters!
Get free craft projects, exclusive partner offers, and more.
Thank You for Signing Up!
There was an issue signing you up. Please check your email address, and try again.