Mod Podge Screen Print
Screen print onto a shirt, bag or any fabric with this great technique from Amy Anderson. She uses fabric Mod Podge and a sheer curtain panel for her screen printing.The snowflake design is great for holiday wearables and gift-giving.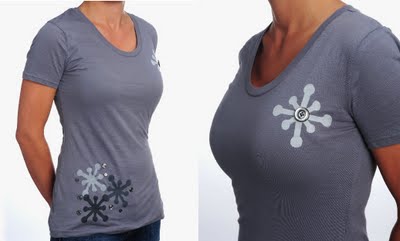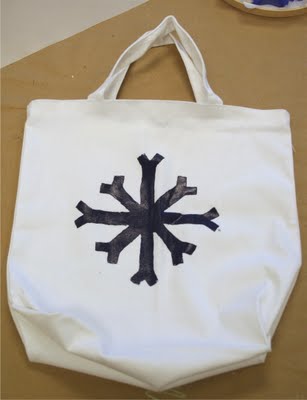 Materials:
Embroidery hoop - doesn't matter if it's wood or plastic
Sheer curtain panel - I got mine for $1 at the dollar store
Screen printing ink - any kind or colors, Speedball is great
Mod Podge - I used Fabric
Flat paint brush
Sheet of paper, any kind
Pencil
Cotton bag
Scissors

Instructions:
I like to jump in, so you should to. Take your sheer curtain panel and fasten it into the embroidery hoop. Screw it closed and pull the curtain tight, tight, tight.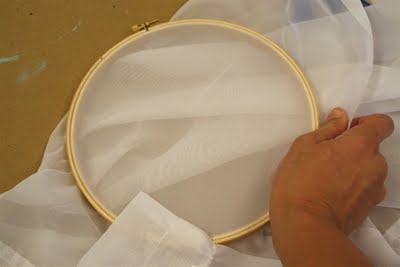 Now turn your hoop over and cut the excess curtain material around the frame. Put the extra curtain aside and then pull your screen taut again.
Now get as crafty as you want to! You're going to need an image, so either hand draw one or print something off of the computer. I wanted a simple snowflake, so I hand drew mine (I first marked off the hoop so I wouldn't do it too big or small). Notice it would have been easier for me to print something or use a ruler, but I like to make things as difficult as possible and do lots of erasing.
Go ahead and place your screen on the design you just drew (or printed). Trace directly onto the screen with a pencil. All the tutorials I've seen use a pencil, so that's what I used. Not sure what happens if you use a pen, but I really didn't want to mess this up so I didn't try and find out.
Yay, my favorite part! Using the brush, paint Mod Podge on your screen where you DON'T want the ink to go through. This is called the "resist" because it resists the ink coming through the screen. I thought about it long and hard, and I decided to use Fabric Mod Podge. Why, because if it's washable, then it would be easy to wash the ink out (Mod Podge staying behind) and then use the screen again for multiple prints. I know, I know - I'm smart.
Let your Mod Podge screen dry for a few hours until it's completely clear. I did a few layers of Mod Podge because I was nervous about the ink getting through in some areas if I didn't do it well enough. Your host is also a neurotic screen printer.
This is the second fun part - place your screen down on the bag and paint! One important thing: place something between the layers of fabric, so that the ink doesn't bleed through. You never know. Be sure when you are painting through the screen to get the corners well. I did several layers of paint before I pulled up.
Pull the screen off and allow to dry. Check out my finished project again. If you found you messed up in any areas, go back and touch up with the brush. Follow the directions on the packaging of your screen print ink to finish your project (wash or heat seal, etc.).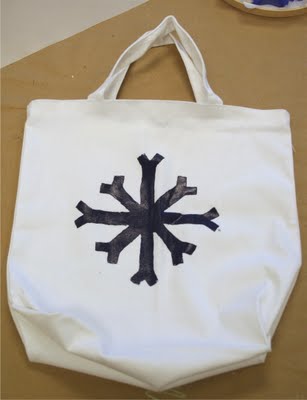 Once I did the bag I was more confident, so I created this mini snowflake screen in the same way that I did the large snowflake one for the bag.
I grabbed a gray t-shirt and mixed together some black and white screen printing ink, then followed the steps I listed above. You'll notice I did several shades on the t-shirt. Gray tonal makes me happy, so printed one snowflake, then added more white. Then did it again. And again. And one more time. Finished t-shirt!
To completely finish her off, I added some buttons, because you know I love them. Great thing is that the screen is reusable, you have tons of curtain material from your sheer panel to make more and now your friends and family all want you to make them a shirt.
Your Recently Viewed Projects
Join our community of 5 million crafters!
Get free craft projects, exclusive partner offers, and more.
Thank You for Signing Up!
There was an issue signing you up. Please check your email address, and try again.