Foam Personalized Candy Hearts
It's so easy to create personalized foam hearts decorated with peppermints, chocolate kisses and gum drops. Kids will love putting together this project for Valentine's Day.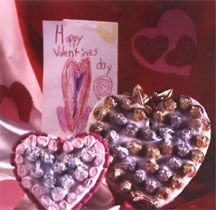 Materials:
STYROFOAM Brand Products:

1- 1" thick solid white heart (available in various sizes - select the size you prefer)

Confectioner's sugar
Variety of small candies, such as peppermints, pastel pillow mints, chocolate kisses, gumdrops, or jelly beans
Table knife
12" ribbon
Plastic wrap or wax paper
Heavy cardboard (optional)
Steps:
Prepare work surface by covering it with plastic wrap or wax paper. If you will need to move the hearts to another area to dry, tape the plastic wrap or wax paper onto a large piece of heavy cardboard so you can easily move the heart when finished.

Make a thick icing "glue" by mixing confectioner's sugar with a little water and stirring until smooth. The icing should stick to the knife when lifted, yet not be dry when spread. If the icing becomes too dry as you work, add several drops of water and remix.

Using a pencil, make a hole in the top of the heart.

Practice arranging the candies on the heart and decide on which pattern you will use.

Using a table knife, spread a thin layer of icing glue over the foam heart, beginning with the sides. Do not ice over the hole.

Push the candies directly into the icing glue following your selected pattern. Let dry; add ribbon for hanging.

Note: If pre-cut hearts are not available, you can easily cut your own from a sheet of 1" thick STYROFOAM brand foam using a serrated knife. Be sure to wax the knife blade with an old candle for easier, smoother cuts.

®™ Trademark of The Dow Chemical Company ("Dow") or an affiliated company of Dow. For more project ideas, please see styrofoamstyle.com.
Your Recently Viewed Projects