Cute Clay Pot Love Fairy
Two terra cotta pots, wood shapes and fun paints make this cute love fairy come alive. Perfect for giving to your Valentine, this cute fairy is ready to wish anyone and everyone a very happy Valentine's Day. Customize her message with whatever you'd like and have her out on display all year long if you like! This is also a great gift for a teacher, grandparent, or baby sitter. Send someone lovely hugs and kisses with this cute Valentine's Day Love Fairy!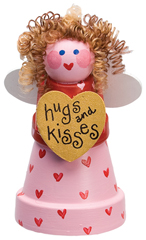 Materials:
Patio Paint in Geranium Red
Patio Paint in Summer Sky Blue
Patio Paint in Pot O' Gold
Patio Paint in Cloud White
Patio Paint in Carnation Pink
3/4" flat brush
#3 round brush
Foam plate
3/8" round foam pouncer brush
Black fine tip permanent marker
Mini Quick Curls Doll Hair
1 3/4" unfinished wood heart
2 medium unfinished wood teardrop shapes
1 1/4" unfinished wood doll head/knob
Lo-temp glue gun
1.9" and 2.75" terra cotta pots
Instructions:
Use flat brush and Carnation Pink to paint doll head and 2.75" pot; let dry.

Use flat brush and Geranium Red to paint 1.9" pot and teardrop shapes; let dry.

Use flat brush and Snow White to paint two hearts; let dry.

Use flat brush and Pot O' Gold to paint remaining heart and let dry.

Mix two parts Carnation Pink to one part Geranium Red; use pouncer brush to paint two circles for cheeks.

Use round brush and Geranium Red to paint small heart print on Carnation Pink pot and for mouth on doll head; let dry.

Use round brush and Carnation Pink to paint small heart print on Geranium Red pot. Let dry.

Use end of paintbrush handle dipped in Summer Sky Blue to paint two dots for eyes and let dry.

Glue Geranium Red pot over base of rim pot, with pot slanted forward at angle.

Glue doll head/knob on bottom of small pot.

Refer to photo for placement of wings and with bottom tips touching, glue Snow White hearts to back of small pot.

Use black marker to paint words "hugs and kisses" on front of Pot O' Gold heart.

Glue Pot O' Gold heart to front of small pot.

Glue teardrop shapes for arms at sides of small pot, wedging them between wings and heart at front with rounded end upwards.

Glue hair as desired to top, sides, and back of doll head. Let dry.
Your Recently Viewed Projects
Join our community of 5 million crafters!
Get free craft projects, exclusive partner offers, and more.
Thank You for Signing Up!
There was an issue signing you up. Please check your email address, and try again.
Valentine's Day
Valentines Day is the perfect day for crafting. Whether you are creating handmade Valentines Day cards or exploring other Valentines Day crafts, these DIY cards and more are sweet, romantic, and more.