22 Lovely Valentine Cards and Poems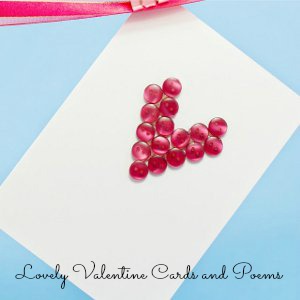 How much do you love your Valentine? Enough to make them thoughtful Valentine cards or write a heartfelt Valentine poem? Here are 22 craft ideas for Valentine cards and Valentine poems that your sweetheart will appreciate from the bottom of their heart. If you're having trouble coming up with sweet Valentine card phrases, why not include a famous love poem?
First pick your favorite Valentine card that you'll enjoy making for your best friend, boyfriend, grandmother or spouse. Then fill it with a lovely Valentine poem. If you're feeling creative write an original poem, otherwise use a famous Valentine Poem.
Handmade Valentine's Day Cards
Valentine cards have been around for centuries, and only recently have they given way to mass produced printed cards that so many of us run out to the store to buy. In fact, Valentine's Day's has been celebrated since the Middle Ages, originally a homage to the Saints named Valentine. We're not sure how the holiday became associated with romance, but we typically Valentine cards are a way to express mutual love through the exchange of notes. These are our top 15 Valentine cards to give to your sweetheart this year.
Valentine Poems for Everyone
Roses Are Red...
Roses are red
Violets are blue
Sugar is sweet
And so are you!
--Unknown
---
How Do I Love Thee
How do I love thee? Let me count the ways.
I love thee to the depth and breadth and height
My soul can reach, when feeling out of sight
For the ends of Being and ideal Grace.
I love thee to the level of everyday's
Most quiet need, by sun and candlelight.
I love thee freely, as men strive for Right;
I love thee purely, as they turn from Praise.
I love thee with the passion put to use
In my old griefs, and with my childhood's faith.
I love thee with a love I seemed to lose
With my lost saints, I love thee with the breath,
Smiles, tears, of all my life! and, if God choose,
I shall but love thee better after death.
--Elizabeth Barrett Browning
---
Eros
The sense of the world is short,
Long and various the report,
To love and be beloved;
Men and gods have not outlearned it,
And how oft soe'er they've turned it,
'Tis not to be improved.
--Ralph Waldo Emerson
---
She Walks in Beauty Like the Night
She walks in beauty, like the night
Of cloudless climes and starry skies;
And all that's best of dark and bright
Meet in her aspect and her eyes:
Thus mellowed to that tender light
Which heaven to gaudy day denies.
One shade the more, one ray the less,
Had half impaired the nameless grace
Which waves in every raven tress,
Or softly lightens o'er her face;
Where thoughts serenely sweet express
How pure, how dear their dwelling place.
And on that cheek, and o'er that brow,
So soft, so calm, yet eloquent,
The smiles that win, the tints that glow,
But tell of days in goodness spent,
A mind at peace with all below,
A heart whose love is innocent!
--Lord Byron
---
Your Recently Viewed Projects
Join our community of 5 million crafters!
Get free craft projects, exclusive partner offers, and more.
Thank You for Signing Up!
There was an issue signing you up. Please check your email address, and try again.