Embroidery Hoop Bulletin Board
Embroidery hoop crafts are all the rage right now. You can turn them into so many things, including this DIY bulletin board from Maureen WIlson. Hang important pieces of paper or cute odds and ends on your walls in your craft room with this easy DIY cork board.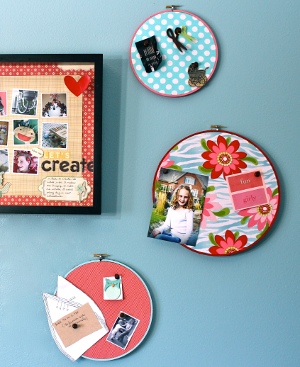 Materials:
Embroidery hoop
Fabric
Cork sheet
Hot glue
Acrylic paint (optional)
Foam-core posterboard
Felt
Pushpins
Video:
Instructions:
Begin by ironing your fabrics.

Next, trace the interior of the hoop's inside ring onto the foam core board. Set aside.

I've chosen to paint my hoops with acrylic paint. This step is optional. You only need to paint the outside ring, because the inner one won't show. Set aside to dry.

Now cut out the foam board circle. Make sure the paint is completely dry, then flip the outer ring over so the painted side is face-down. Lay your fabric pattern-side down on top of the ring. Position the fabric until you're pleased with the pattern that's showing in the center. Press the smaller inner ring inside the larger one to secure the fabric.

Trim the edges of the fabric, leaving about 1.5 inches. Make short snips around the perimeter of the fabric so that it will fold in more easily.

Tug gently on the fabric as needed to make sure it's very taut inside the hoop.

Now trace around the foam board circle onto the cork. Cut out the cork. Some brands are self adhesive. If yours isn't, add a thin layer of hot glue and press into place.

Press the foam circle into the hoop, with the cork against the fabric. Make sure it fits snugly. Then, fold in the fabric edge and hot glue in place.

Trace the hoop onto a piece of felt and cut out. Hot glue to the back of the hoop. This not only makes your project look tidier, it also helps secure the foam board. Add hot glue to the hoop where the fabric meets the wood. Add some in the center as well. Smooth the felt into place, then trim off any excess.

Hang using small nails.
Note: Now, I know I have some thrifty crafters out there, and I'm guessing they're going to ask whether the cork is necessary for this project. Foam board by itself will hold the pushpins, but it won't be as durable without the cork. If you do choose to skip the cork, I recommend using fabric spray adhesive to attach your foam board, rather than hot glue. It will give you a much smoother finish.
Your Recently Viewed Projects
Join our community of 5 million crafters!
Get free craft projects, exclusive partner offers, and more.
Thank You for Signing Up!
There was an issue signing you up. Please check your email address, and try again.