Lucky Card
Read on to discover how to make a St. Patrick's Day card for someone special. The lucky card from Cindi Bisson lets your loved ones know just how lucky you are to know them.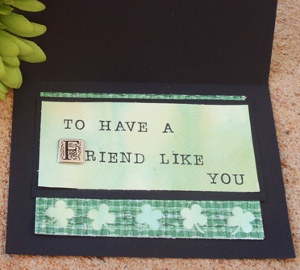 Materials:
Rit Liquid Dyes: Kelly Green, Dark Green
Pressed Shamrocks Stamp
Stamping Studio Watercolor Paper, 90 lb. 9"x12" Daler-Rowney
Tsukineko VersaMark Resist/Embossing Inkpad
Stewart Superior Palette Inkpad – Noir Black
Elmer's Craft Bond Dot Runner Adhesive & Foam Tape
Black cardstock
Green patterned paper
Shamrock punch (Family Treasures)
Metallic alphabet brads
X-Acto Paper Trimmer & metal ruler
Measuring cup
Small mixing bowls
Teaspoon
Paintbrush
Paper towels
Latex gloves
Microwave oven
Instructions:
Wearing latex gloves, measure and mix ½ teaspoon of Kelly Green dye with ½ cup hot water in small bowl; set aside. Repeat for Dark Green dye; set aside.

Rinse watercolor paper under running water to wet entire surface.

Use paintbrush to randomly apply small amounts of Kelly Green and Dark Green dye mixed with hot water directly onto the wet watercolor paper, allow them to blend into each other slightly.

Place onto paper towels and microwave on high for 1 to 2 minutes.

To stamp with Rit Liquid Dye direct from the bottle: Press shamrock stamp onto VersaMark inkpad. Then use paintbrush to apply Rit Dark Green Liquid Dye directly from the bottle over the layer of VersaMark ink on the stamp. Stamp shamrocks onto the dry watercolor paper already colored with Kelly Green and Dark Green in step 3. Dry in the microwave for 1 to 2 minutes. Cut paper to 4 ¼"x 2 ½".
Cut strips of green watercolor paper to 1 ¼"x 3 ½", 4"x 3/4" and 4"x 1 ¾".

Cut black cardstock to 5 ¼"x 7". Fold in half to create card.

Use Elmer's Dot Runner to mount 1 ¼"x 3 ½" strip vertically along left border of front of card.

Cut patterned paper to 5"x 3 ¼". Punch left 3 ¼" edge 3 times with shamrock punch as shown.

Mount punched patterned paper using foam tape against left border of card, overlapping punched images over watercolor paper strip.

Use alphabet stamps inked with black ink to stamp out text (I AM SO) on shamrock stamped paper. Add metallic alphabet brads to spell out LUCKY as shown.

Mount to a black mat cut approximately 1/8" larger on all sides and mount to front of card over patterned paper against right border of card front.

On 4"x 1 ¾" piece of green watercolor paper, stamp verse (To Have A Friend Like You) with alphabet stamps in black ink. Add metallic letter "F" when spelling out Friend.

Mount to black mat cut approximately 1/8" larger on all sides.

Cut patterned paper to 3"x 4 ¼". Punch shamrocks along bottom 4 ¼" edge as shown.

Use foam tape to mount green punched paper so 4"x 3/4" strip of watercolor paper shows beneath shamrocks. Mount to center of inside of card.

Mount matted verse over patterned paper.
Your Recently Viewed Projects
Join our community of 5 million crafters!
Get free craft projects, exclusive partner offers, and more.
Thank You for Signing Up!
There was an issue signing you up. Please check your email address, and try again.