Crafts for Adults with Disabilities
Learn about disability statistics, crafts for adults with disabilities, and more with this informative guide!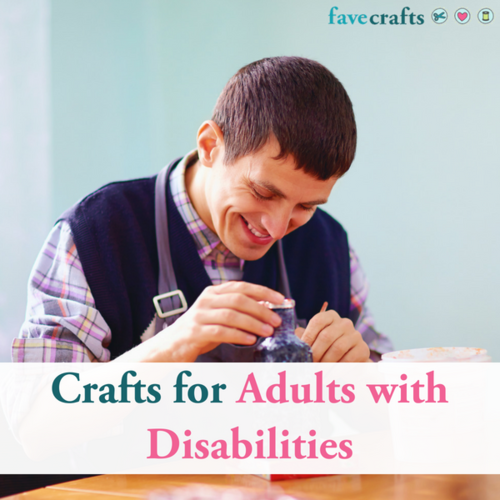 Just like you and me, adults with disabilities enjoy the art of crafting. We all feel the profound satisfaction of completing a craft project. We all turn to scrapbooking or coloring pages if we want to relax or keep busy. Although disabled adults face more challenges than others, they should still indulge in the wonders of crafting. After all, crafting is for everyone. 

If you're a caregiver, teacher, or family member of a disabled adult, crafting is a great way to keep your student or loved one entertained. Give a simple yet amusing craft project to an adult with disabilities, and they'll stay enjoyably engaged for a while. Or if you're disabled, you can occupy your time with an easy craft for adults with disabilities. Crafting has so many benefits for people living with disabilities, so it's important to apply craft projects to their daily lives.

Whether you or your loved one is mentally or physically disabled, this Crafts for Adults with Disabilities guide will teach you everything that you need to know about the best crafts to do with people who have disabilities. From disability statistics to craft projects for disabilities, this article will help you understand the importance of crafting for adults with disabilities.

What is a Disability?
According to the World Health Organization, Disability is "a complex, dynamic, multidimensional, and contested" topic. For decades, people have argued over the real definition of the word "disability." While some people define it from a social perspective, others view it from a medical standpoint.

Disability can't be regarded as black or white because several factors can cause disabilities. Often times, disabilities are affected by both medical and social problems. As a result, this topic is so broad that it's impossible to have one clear and distinct definition. 

Generally speaking, disability typically refers to a physical or mental condition that impairs or limits a person's ability to participate in certain tasks. A person with disabilities is usually restricted by their condition, and he or she struggles in doing everyday activities, unlike the average person.

Multiple types of disabilities exist — such as physical, mental, sensorial, neurological, etc. Yet, for the purpose of simplicity, this article will focus on the most common types: physical and mental disabilities.

Disability Statistics
According to Disabled World Towards Tomorrow, about 10% of the world's population, or roughly about 650 million people, lives with some form of mental or physical disability, and in the United States alone, nearly 40 million Americans are disabled. The disabled population is actually the world's largest minority, and according to the World Health Organization, their numbers will continue to rise significantly over the years. 

In regards to mental disabilities, one in four people are living with a mental disorder. Whether it's autism, anxiety, or Dementia, around 450 million of the world's population suffers from one of these conditions. In fact, this number could possibly be higher; yet, people often avoid seeking help from professionals due to social stigmas and discrimination.

As for adults with physical disabilities, more than 74.6 million people suffer from some type of physical disability in the United States, and the number is much larger worldwide. From that number, about 39.5 million people experience a difficulty in physical functioning — meaning their actions are very limited.

Physical Disabilities
A person living with physical disabilities struggles with a limitation on their physical functioning, mobility, dexterity, or stamina. These people might also struggle with a physical impairment that affects their day-to-day life, such as a blindness or a respiratory condition.

Usually, a person suffers from a physical disability due to one of two reasons. Their condition is hereditary which means that they've been physically disabled since birth or developed it later in life. Or, it was acquired through an accident, infection, disease, or disorder. 

Some examples of a physical disability include: 
Arthritis
Cerebral palsy
Acquired brain and spinal cord injuries
Muscular dystrophy
Epilepsy
Amputation

Crafts for Adults with Physical Disabilities
Adults with physical disabilities usually struggle with creating traditional crafts. Most projects require a high level of dexterity or fine motor skills, but unfortunately, physical disabilities limit both of these skills. Therefore, adults with a physical disability cannot participate in those types of projects. However, you can easily find or tailor certain crafting projects to better fit a physically disabled adult's needs. 

Depending on their level of motor skill, adults with disabilities can complete all types of projects that you might not expect! For example, someone with arthritis can (and should) stitch up a beginner's knit pattern to work their muscles. Others with lower motor skills might prefer a stenciled painting project.

So, if you're looking for a craft for adults with physical disabilities, check out one of our many projects:

Mental Disabilities
Unlike physical disabilities, mental disabilities are a little trickier to define. Mental disabilities can refer to a wide range of mental health conditions. From depression to ADHD to Down syndrome, mental disabilities encompass all types of impairments. In attempting to define what a mental disability is for the purposes of this article, it became clear just how broad this field is.

Essentially, a mental disability is a condition that limits a person's intellectual or emotional capacity, and it can be caused by several factors. 

Similar to physical disabilities, mental disabilities can be hereditary or acquired, but they can develop depending on one's environment, brain chemistry, and many other factors.

A few mental disabilities include:
Anxiety
Fragile X syndrome
Schizophrenia
Alzheimer's
Down syndrome
Autism
Activities for Adults with Mental Disabilities
Although adults with mental disabilities have higher dexterity and motor skills than adults with a physical condition, they still face many challenges that affect their crafting experience. While some adults with mental illnesses are relatively self-sufficient and independent, others need a little more supervision and guidance. 

If you take care of someone with a mental disability, you've might have found it difficult to keep them entertained while you were busy. Or you might be looking for a crafting project that'll help booster their physical skills or emotional state. Like adults with physical disabilities, crafting project should be tailored to their needs.

People with mental disabilities often find it difficult to express their feelings, so it's best to choose projects where they can creatively express themselves. Others who suffer from anxiety or Alzheimer's might prefer projects that'll keep their hands entertained. 

Mental disabilities are incredibly broad and affect people to varying degrees. So, this section provides a wide variety of projects that might appeal to adults with several mental disorders and illness:

Benefits of Craft Therapy
In recent years, research has shown that crafting is beneficial for our health and relationships, no matter who you are. Yet, craft therapy is probably the most helpful to people living with disabilities. 

Crafting provides an opportunity for self-expression and creativity. According to a study by the University of East Anglia, adults with mental disabilities have higher levels of creativity than others, but their condition impedes them from expressing themselves as others do. As a result, crafting encourages them to engage with their creativity and communicate any emotions or thoughts that they often find difficult to express.

Moreover, craft therapy can help adults with disabilities develop and refine certain physical or mental skills. People with low motor skills can improve their coordination with craft projects that involve cutting, painting, or tracing. For adults with mental disabilities, crafts can be useful in expanding their mental agility and stimulating their learning processes. Craft therapy also encourages adults with disabilities to be more inventive and think outside of the box. 

Most importantly, adults with disabilities often feel a sense of pride and accomplishment after completing a craft project. Living with a disability can negatively affect someone's mental state. Often times, adults with mental or physical disabilities will feel discouraged and humiliated because of their conditions. 

As a result, crafting becomes more therapeutic. Completing a craft can instill the self-confidence that one might've lacked, and it can truly shift one's perception of the world. Instead of looking at the glass half-empty, crafting encourages adults with disabilities to view it as half-full.

A disability doesn't necessarily define who you are or what you can do, and craft therapy teaches this lesson to adults with disabilities. If you can complete a craft project like everyone else, then you can do anything as well.
Do you have any helpful craft ideas for disabled adults?
Let us know in the comments below!
Your Recently Viewed Projects