16 Floral Coloring Pages
Why would you buy a coloring book when you can download these free floral coloring pages for adults?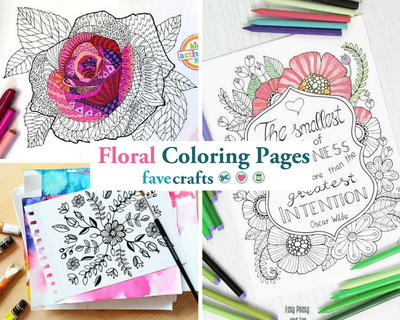 Although all coloring pages are lovely, one of our favorites is floral coloring pages. So much variety exists within flower coloring pages. One day, you might want to color a simple flower with only six petals. On another day, you might want to color a whole garden of flowers that all have intricate patterns. And there is always a free coloring page (or several) for each one of those! When it comes to coloring pages with flowers, the possibilities are endless. Each coloring page that you find will be completely different than the last one, and you'll always find one that fits your mood. You might even feel a little overwhelmed by the quantity of printable flower coloring pages! 

So, whether you're using coloring as a creative outlet, a mode of relaxation, or a mindless activity, your favorite coloring page will definitely be a floral one! These adult coloring pages are so beautiful that you won't think twice about which coloring page to choose. You'll immediately go for the floral ones. To support your floral coloring page obsession, we've complied a collection of beautiful coloring pages that you'll love. In just one page, you can find a list of all the best floral coloring pages that you'll enjoy coloring. And the best part is that they're all free! Just scroll down the list, choose your favorite one, and start coloring! 
Table of Contents
Intricate Floral Coloring Pages
Is there a better way to spend your time than coloring? Try these coloring pages if you love to color for hours and hours: 111 Intricate Coloring Pages
Simple Coloring Pages with Flowers
Coloring should be a stress-reliever, not another stressor. This coloring page features simple yet cute flowers that won't add stress to your daily routine.

Get the Page
All My Love Adult Coloring Page
The coloring page features a beautiful heart with detailed floral images within. It would make an excellent page to color any time of year, but if you're specifically looking for Valentine's Day coloring pages, this is the perfect option. 

Instant PDF Download
Floral Coloring Pages with Inspirational Quotes
Find What Makes You Happy Mandala Coloring Page
This coloring page will keep you occupied for hours while inviting you to meditate on exactly what it is that will make you happy. Then, contemplate how you can make that happen. Get inspired and relaxed as you color this free printable.

Get the Page
This free coloring page is filled with florals and a heartwarming quote from Oscar Wilde. Think of how gorgeous this would look framed and hanging in your home somewhere! It'll be the perfect little reminder of how impactful a small act of kindness can be.

Get the Page
Recapture the feeling of calm and accomplishment you felt as a child after finishing a coloring page. From insanely complicated mandala coloring pages to simpler free coloring pages featuring fabulous animals, our newest free coloring book features several types of stunning pages to color:15 Printable Free Coloring Pages for Adults free eBook
Floral Mandala Coloring Pages
What type of coloring pages do you like?
Let us know in the comments below!
Your Recently Viewed Projects
Join our community of 5 million crafters!
Get free craft projects, exclusive partner offers, and more.
Thank You for Signing Up!
There was an issue signing you up. Please check your email address, and try again.