"How to Make a Purse: 20 Patterns for Sewing Totes, Bags and More" free eBook
How to Make a Purse: 20 Patterns for Sewing Totes, Bags and More

If you're looking for free patterns for sewing, you've come to the right place. Find out how to sew a bag, tote or purse that you can carry every single day. Best of all, you can use a variety of materials for your projects. Whether you love the look of leather or want to repurpose an old sweatshirt, there are plenty of projects to spark your creativity. Bags, totes and purses can help you practice your sewing skills. These projects can be made by beginners as well as experts - it all depends on the size and scope of the project. Bags and totes don't require as much sewing experience though, and they usually take less time to create than shirts and pants.

Grab your favorite fabric and pull a chair up to your sewing machine - these patterns will keep you busy all season long. Luckily, these patterns for bags are versatile and fun to make - you can make a purse for spring but wear it in the cold winter months too. If you love to find quality sewing patterns for free, you will absolutely fall in love with the patterns in How to Make a Purse: 20 Patterns for Sewing Totes, Bags and More. Once you learn how to sew a bag, add embellishments like fabric flowers and fringe - it's a great way to add a unique touch to your project.
Make plans to hit the town - you can take your bag to the beach or a fancy restaurant. Find out how to make a purse that fits your personality and your lifestyle. People will assume you bought your bag at a fancy boutique. Don't tell them about these patterns for bags - let them think you dropped a bundle on your handmade tote, purse or bag! The stylish designs and pretty patterns will turn heads and help you get noticed. Avoid the stuffy malls and expensive boutiques - you can't go wrong with patterns for bags that just happen to be completely free. In fact, you might appreciate your accessories more when you know how much hard work and energy has gone into their creation.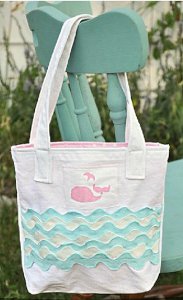 Don't be afraid to step outside of the box when it comes to free patterns for sewing totes. Totes should be roomy and durable - you should be able to take it to the beach or pool. Throw in a magazine, some snacks, or any other must-have items - when it comes to sewing, free patterns for totes should fit your lifestyle.
A Whale of a Tale Tote Bag (p. 5) Totes are also ideal for busy moms because you can carry toys, bottles and even a change of clothes. Look for free patterns, sewing ideas and tote bags that are roomy enough to hold all of the essentials. Kids will love this pattern and parents will appreciate how easy it is to make. You can even use scrap fabric to create the whale.
Felt Flower Mini Tote (p. 31) - Girly girls will love carrying this fun tote bag. It's appropriate for little ones but stylish enough for adults to carry. Who doesn't love free patterns? Sewing crafts are a great way to save money on wearables and accessories.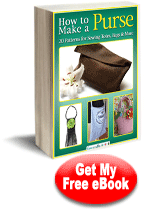 ---

If you like these ideas for sewn purses and totes, check out 8 Free Apron Sewing Patterns. These patterns are perfect for your favorite chef or baker!
---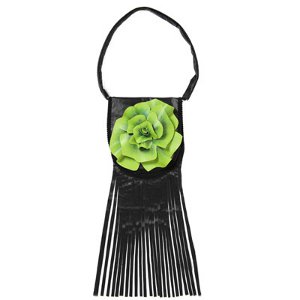 If you're looking for something smaller and sleeker, you can't go wrong with one of these free patterns for sewing bags and purses. With the patterns in this eBook, you can create a chic clutch or a bright and colorful bag. If you're a beginner, you can find out how to sew a bag that looks great and stores all of your stuff. Your most stylish friend will love their very own handmade bag, especially if it featured unique touches like flowers and fringe.
Petals and Fringe Handbag (p. 72) - You can make a big statement without spending a fortune. Also, you can find patterns for sewing multi-purpose bags that the whole family can use. Find out how to make a purse that looks great and doesn't take forever to create.
Camping or Sleep Over Bag (p. 38) - Create a giant sack that stands out from a sea of other bags. Don't forget, sewing patterns for free can also be turned in to great gifts for others!

---

If you're new to the world of sewing, start slow with our collection of 21 Easy Sewing Projects: DIY Designs and Sewing Craft Ideas. This free eBook will bring out your inner sewing enthusiast and help you master basic skills.
---
Whether you're planning a complete closet overhaul or just want to ditch that oversized sweatshirt, you can't go wrong when you repurpose old clothes. This is an easy way to save money on fabric and supplies. Plus, you can save sentimental items and get additional wear out of them. Use sweatshirts, denim and more for these free patterns for sewing. Find out how to make a purse using old jeans or a tote using upcycled fabric. You can even make a bag for young people using sentimental wearables that no longer fit. Find out how to make a purse using old jeans or a tote using upcycled fabric.
Upcycled Denim Tote Bag (p. 88) - If you've grown out of that old pair of jeans, consider creating this bag. You can use one pair of jeans or mix and match washes to create a patchwork look. Don't forget to add a pocket for your keys!
Sweatshirt Tote (p. 79) - Use an old sweatshirt to create delightful tote bag. You can even make a bag for young people using sentimental their own wearables that no longer fit.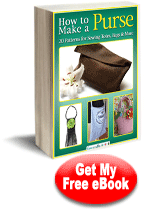 Learn how to make a purse or how to sew a bag - there are so many ways to show off your skills. Whether you're looking patterns for sewing tiny clutches or oversized totes, you won't be disappointed by the free patterns for sewing in this eBook. You can also sew some bags for little girls, teens and other adults. The patterns for bags featured throughout How to Make a Purse: 20 Patterns for Sewing Totes, Bags and More can be modified to fit anyone's personality, so think outside the box and be sure to add some personal touched.
If you like free patterns, sewing your own wearables or creating unique designs, these projects will keep you busy. Luckily, you don't have to be a sewing expert to enjoy these patterns for sewing. Find a project that matches your skill set and enjoy the process - this is what sewing is all about. Create a gift for a friend or make yourself something special. Actually, do both - there are enough patterns for bags to match everyone's style.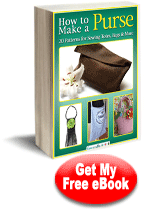 Don't Miss Our Other eBooks!
Be sure to check out our entire collection of eBooks. You'll find titles such as:
Need Help Downloading?
You can easily download and print out each book for on-hand reference while crafting.
For help downloading our eBooks, check out the FAQ here: How to Download our eBooks.
Sign Up For Our Newsletters
With your free copy of How to Make a Purse: 20 Patterns for Sewing Totes, Bags and More, you can also subscribe to our Quick and Crafty newsletter to become part of the FaveCrafts community. In subscribing to the newsletter, you will receive:
Five weekly emails with free crafting patterns, tips, collection pages, videos and more + a weekly wrap-up.
Chances to win books and products from our weekly giveaways and contests.
New FREE patterns and eBooks made available to you throughout the year.
Access to our free pattern library full of over 1,000 of free crafting patterns.
The opportunity to share ideas and help others in the crafting community.

Filled with lots of craft ideas, How to Make a Purse: 20 Patterns for Sewing Totes, Bags and More is a great go-to guide for creating fashionable handmade accessories. From frilly totes to modern clutches, there are so many ways to add a personal touch to an unexciting outfit. The patterns featured in the eBook can be tailored to fit anyone's personal style and expertise - the craft possibilities are endless!
Your Recently Viewed Projects
Join our community of 5 million crafters!
Get free craft projects, exclusive partner offers, and more.
Thank You for Signing Up!
There was an issue signing you up. Please check your email address, and try again.