Ultimate Plaid Home Decor Assortment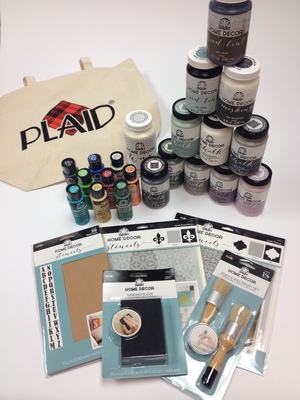 Ultimate Plaid Home Decor Assortment
Gifted by: Plaid
www.plaidonline.com
Reviewed by: Madison Bowes, Editor, FaveCrafts.com
BONUS! Enter to win the Ultimate Plaid Home Decor Assortment! Contest ends 8/02/15.
Summer is the perfect time to catch up on your DIY projects and transform your old decorations and home décor into something brand new. With the Ultimate Plaid Home Decor Assortment, you will have everything you need for your home's rehaul. Listed below are the items in the assortment.
The Ultimate Plaid Home Decor Assortment Includes:
FolkArt Multi-Surface Paints: This is the only paint you'll ever need! Paint wood, glass, ceramic, metal, terra cotta, rigid plastic, canvas, Styrofoam, slate, paper mache and fabric with the same bottle.
Colors: Cardinal Red, Classic Green, Sunflower, Cobalt Blue, Mandarin Satin Pearl, Aqua, Charcoal Black, Vintage White, Lime Green
FolkArt Home Decor Chalk: Paint furniture, cabinets, decorative items and craft projects. No priming or prep needed – paint over existing lacquer.
Colors: English Lavender, Lilac, Java, Spanish Moss, Sage, Cottage White, Maui Sand, Castle, Clear Wax, 16 oz
FolkArt Home Decor Wood Tint: These wood tints are fast-drying and add beautiful color to unfinished wood. The trend-right, decorative colors are designed to be applied on wood surfaces as a permanent finish.
Colors: Cascade, Walnut, Wood Tint Mask
FolkArt Home Decor Stencils: With designs inspired by current trends that have been sized and scaled specifically for home decor projects, now you can take your home decor projects to the next level.
Patterns: Alphabet, Fleur de Lis, Trellis
FolkArt Home Decor Tools: Use these over and over again to update and revamp areas of your home.
Tools: Sanding Block, Home Decor Paint & Wax Brush Set
Your Recently Viewed Projects