Rose Accented Votive Holder
This beautiful Rose Accented Votive Holder from Polyform Products would make a wonderful wedding favor. Clay crafts like this are easy to make and are great for quick handmade gift ideas. Fill it with a rose scented candle for a cute bathroom decoration!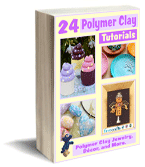 You can find this project, as well as many other Polymer clay tutorials, in our free eBook, 24 Polymer Clay Tutorials: Polymer Clay Jewelry, Decor and More!
Materials:
1 block Sculpey® III: Candy Pink * - 2 oz
1 block Sculpey® III: Pearl - 2 oz
1 block Sculpey® III: Granny Smith - 2 oz
Sculpey® Push Mold-Flowers & Leaves
White ribbon
Square glass votive
Silicone Glue

Instructions:
Notes:
Do not use unbaked clay on unprotected furniture or finished surfaces. Start with clean hands and work surface area. Good work surfaces include wax paper, metal baking sheet, or disposable foil. Knead clay until soft and smooth. For best results, clean your hands in between colors. Shape clay, pressing pieces together firmly. Bake on oven-proof glass or metal surface at 275 °F (130 °C) for 15 minutes per ¼" (6 mm) thickness. For best baking results, use an oven thermometer. DO NOT USE MICROWAVE OVEN. DO NOT EXCEED THE ABOVE TEMPERATURE OR RECOMMENDED BAKING TIME. Wash hands after use. Baking should be completed by an adult.
Begin by preheating oven to 275 °F (130 °C). Test temperature with oven thermometer for perfectly cured clay. For best results, condition all clay by running it through the clay dedicated pasta machine several passes on the widest setting. Fold the clay in half after each pass and insert the fold side into the rollers first.

Condition and mix equal parts of Candy Pink and Pearl together, but not completely.



Use the Flowers and Leaves push mold to make three small rose petals, four medium rose petals, and six large rose petals from the swirl color. Make two rose leaves from Granny Smith.



Press the three small petals into a little triangle shape. Add the four medium petals around the outside of the center petals. Add the six large petals around the outside overlapping each petal slightly. Make sure the flower petals all hold together well by pinching them together at the bottom of the rose. Gently cut off the pinched part so that the flower can sit flat on the side of the votive.



Add on the leaves. Bake the rose as directed above.

After baking allow the rose to cool. Cut ribbon and wrap it around the votive securing it into place with a few dots of glue. Glue the rose onto the front of the votive where the ribbon overlaps.



Your Recently Viewed Projects