Featuring a bright star and patchwork coat in high lustre yarn, this plastic canvas Christmas ornament will add sparkle to your Christmas tree. Plastic canvas ornaments like this Santa ornament make great holiday gifts too.
Make a coordinating set with the Star Snowman Ornament or Christmas Elf Ornament.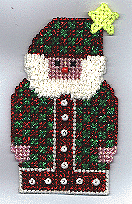 ---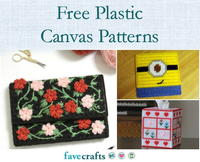 Find this craft and more Plastic Canvas projects in 25 Free Patterns for Plastic Canvas.
---

Materials:
Kreinik Heavy (#32) Braid in 003HL Red Hi Lustre (6 yards), 008 Green (3 yards), 005HL Black Hi Lustre 1(8 inches)
Kreinik 1/8" ribbon in 100HL White Hi Lustre (5 yards), 092 Star Pink (1.5 yards), 054F Lemon-Lime (1 yard)
Kreinik Fine (#8) Braid 100HL White Hi Lustre (1 yard)
10-mesh plastic canvas such as Quick-Count™ by Uniek. You will need to cut pieces for the following: one Santa at 26
45 holes, one star at 7 x 7 holes
1/8" (E) beads: 10 white and one red
Plastic Canvas needle (#18) and embroidery/beading needle
scissors, small piece of nylon thread (for the ornament hanger)
Instructions:
Carefully cut canvas according to graphs.

Using the color key and photo as a guide, work the star, and Santa's face, hands and the center and bottom of his coat and the bottom of his hat in continental stitches.

Work the patchwork hat and sides of coat in alternating green and red mosaic stitches.

Add two black cross stitches for eyes. Bring the black braid up at one (+), add the red E bead, and bring the needle down at the adjacent (+), over star pink continental stitch.

Work Santa's beard in white French knots. Bring the needle up like you would for a continental stitch, wrap white 1/8" Ribbon around needle and go over the bar.

Using white 1/8" Ribbon, backstitch along sides and bottom edges of patchwork coat.

Using Fine (#8) Braid in 100HL, add white E beads to Santa's coat at the circles. Bring needle up in hole 1, add a bead and then go down in hole 2. Bring your needle up in hole 3, back through the center of the bead and down through hole 1. Work all 10 white beads in this manner.

Overcast sides of Santa's beard and bottom edges of Santa's coat with white 1/8" Ribbon. Overcast Santa's hands with Star Pink. Overcast edges of patchwork hat and coat with red.

Overcast star with lemon-lime and tack edges to unstitched square on right side of Santa's hat.

Add a small nylon thread to the top center of Santa as the ornament hanger.
Your Recently Viewed Projects