Leather Feather Lariat Necklace
Learn how to make a lariat necklace with this tutorial.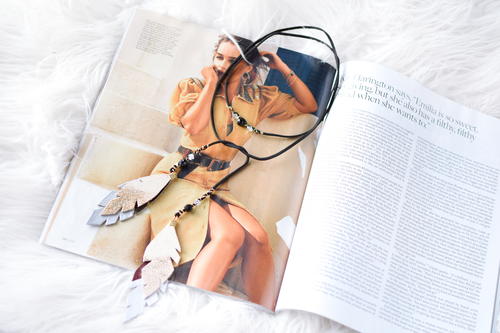 If you've seen folks wearing the lariat style necklace, you've probably fallen just as in love with the design as we have! Lariat necklaces are becoming increasingly trendy in the fashion world, making them a fabulous DIY opportunity. Make your very own Leather Feather Lariat Necklace. Combining a choker style necklace with long, dangling accents, this gorgeous DIY necklace tutorial is perfect for the Bohemian loving crafter. Add some sparkle to those leather accents plus a bit of beadwork, and you're ready to hit the streets of the big city in style.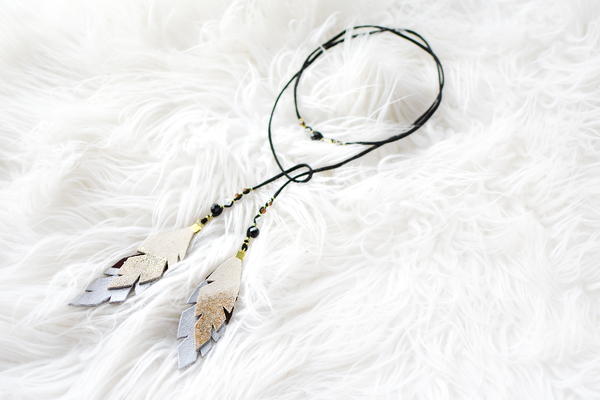 Lariats are definitely the latest trend in the jewelry world! I love these pieces because they always look a bit bohemian (my favorite style!) and look great with any outfit.

This DIY feather lariat uses leather, glitter, metallic paint and crystals for a mixed media piece. It's also pretty simple to make, and can be created in any color scheme. I like the darker colors, but this would look really pretty with dusty pink or light blue leather for a more feminine look. Feel free to change it up!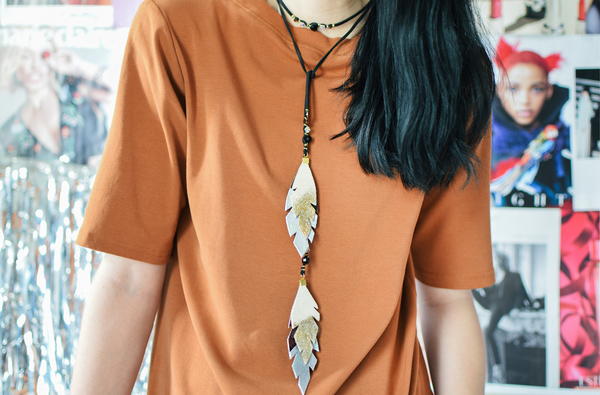 Part choker and part drop necklace, I love pairing this with a simple tunic tee and leggings. The subtle shine of the glitter and paint add chicness!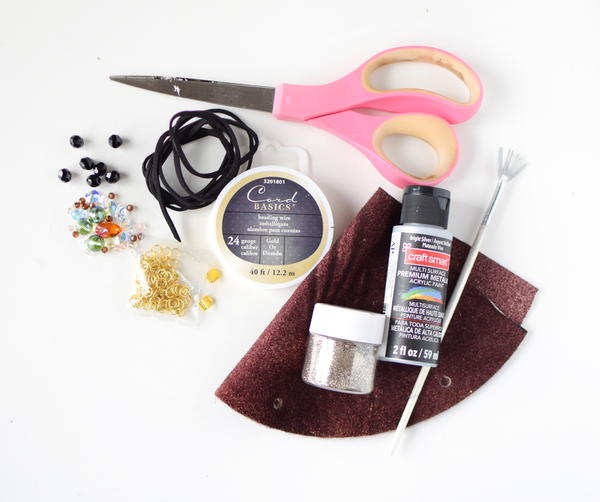 Step 1:
Gather materials. Needed are leather/faux leather sheets, glitter, metallic paint, clear gloss glaze (I find this by the paint at craft stores), a paintbrush, jumprings, ribbon ends, 24g wire, beads and crystals, flat leather/faux leather cord, and scissors.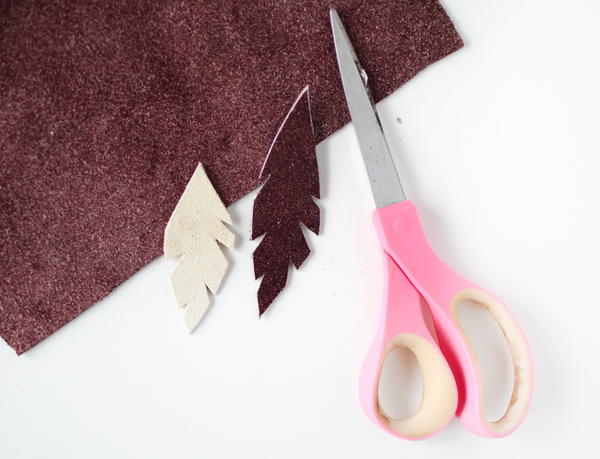 Step 2:
Cut four leather flowers out of the sheet leather. Make two of them larger than the other two. Use a more abstract or geometric shape for a modern look.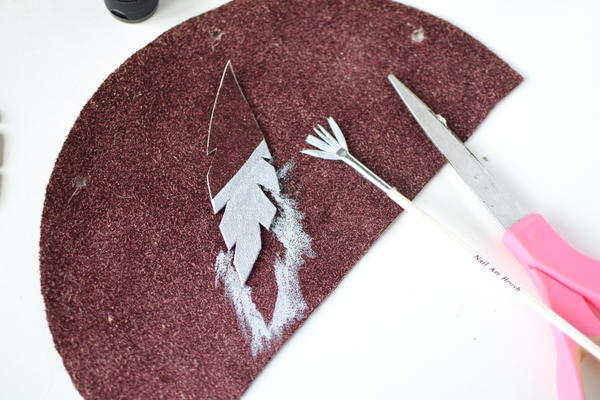 Step 3:
Paint half of the larger feather with silver metallic paint. You can also use gold or another metallic color for a different look. Let dry.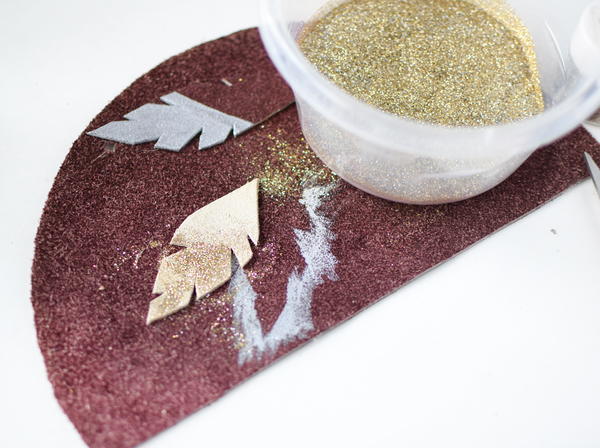 Step 4:
Paint half of the smaller feather with clear gloss and sprinkle glitter on top. Let dry, and dust off excess glitter.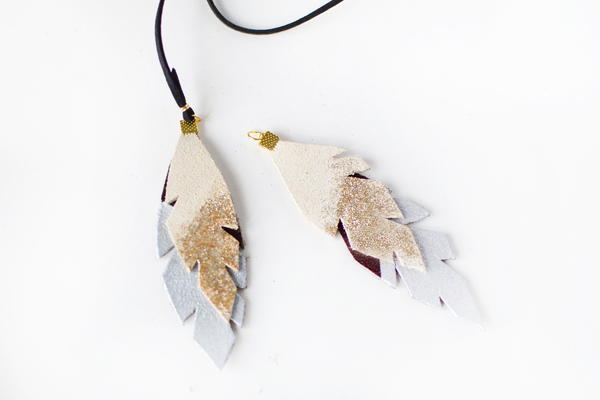 Step 5:
Group the feathers together in sets of 2. Use a ribbon end and crimp to secure the tops. Add jumprings to the loops.

Cut a 40" piece of leather, and loop around the jumprings. Use another jumpring to crimp around that loop (feather at left) to secure the leather to the feathers.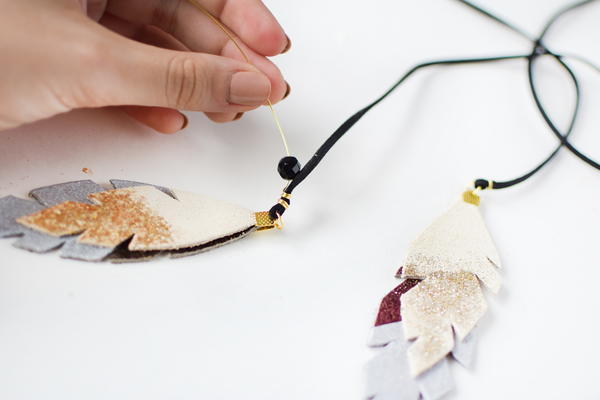 Step 6:
Cut a 10" piece of 24g wire. Wrap a few times around the leather, next to the crimped jumpring. Add a faceted crystal, and wrap once around the leather to secure.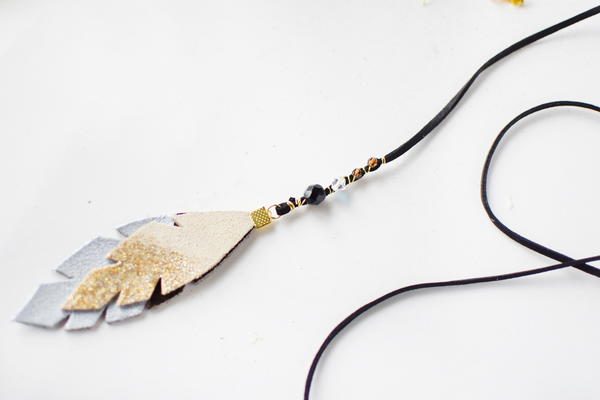 Continue adding beads and wrapping, until your desired look is achieved. Wrap the end a few times and cut flush to finish.

Repeat to the other feather.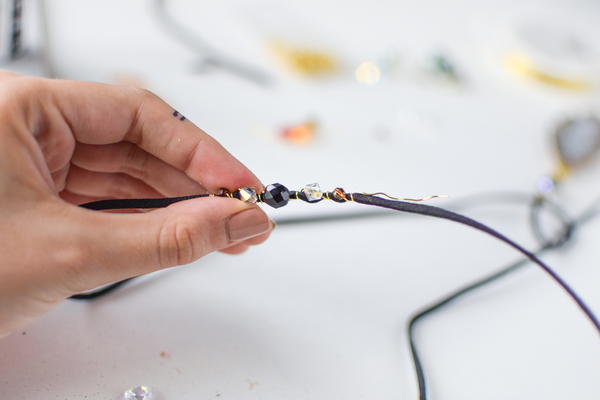 Step 7:
If you'd like to add a bit of sparkle to the choker part of the lariat, wrap the piece around your neck as you'd wear, and mark the middle.

Wrap on a few beads to embellish. Cut the end flush to the leather to finish.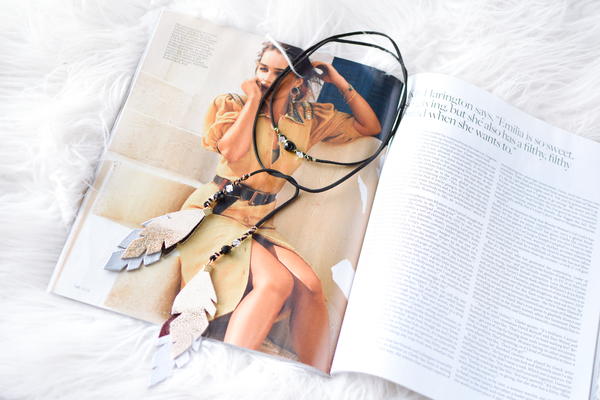 Your Recently Viewed Projects