Blast From the Past Sketchbook
Record your thoughts, hopes and dreams in your own handmade Blast From the Past Sketchbook. Scrap fabric crafts help you save money and get creative. Turn an old scrapbook into a cool journal - it's so much easier than you think.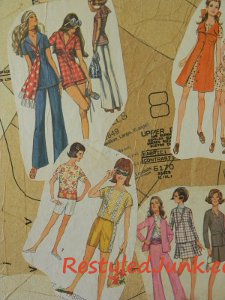 Materials:
12" X 12" postbound scrapbook album with paper inserts
Screwdriver
White acrylic paint
Paintbrush
Old tissue paper patterns
Decoupage medium
Sponge brush
Scissors
Instructions:
Remove the posts holding the covers and pages of the album together using a screwdriver. Set the pages and the posts aside.



Paint the outside of the covers using white acrylic paint. Allow the paint to dry. If the original cover is bold or has a busy design, more coats may be needed for complete coverage. Turn the covers over with the insides facing up. Paint the inside lip of the cover where the outside color has wrapped around from the front. Leave the remainder of the inside cover unpainted.



Unfold the pieces of an old tissue paper pattern. I liked the pieces that had lots of lines and printing on them. It does not matter if they have been cut out or are still in one big sheet.

Apply decoupage medium to the outside of the covers using a sponge brush. One by one, layer pattern pieces over the medium. Apply decoupage medium over the tissue to adhere. Don't worry about wrinkles. I think they add to the vintage look. Allow the pattern pieces to extend past the edges of the covers. Do not trim at this time.

Rough cut the front images from the envelopes of 6 or 7 vintage paper patterns. Randomly decoupage them over the tissue paper on both the front and back covers. Allow the medium to dry.



Fold the tissue paper to the inside of the covers. Trim the paper to cover just the painted edge. Apply decoupage medium to the cover's edge and press the paper over it. Finish with decoupage medium over the top of the paper. Allow the medium to dry.



Use a wooden skewer to reopen the holes in the covers. Reassemble the book.
Your Recently Viewed Projects