How to Clean Pine Cones
Learn how to debug pine cones to get them ready for crafting!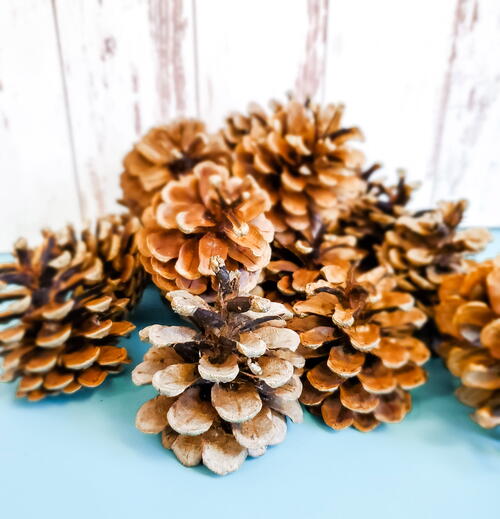 Pine cones are a popular material for decorating, especially during fall and winter holidays. They can be used in floral arrangements, in beautiful wreaths, or as vase fillers. They can even be spray painted to match any color scheme.

They're also a popular crafting material because many people are able to find them in their parks and neighborhoods for free. Summer and fall are the most likely seasons for finding fallen pine cones. But you can also find them in craft stores and online.

If you go out pine cone collecting, you may find that your area grows several types of evergreen trees.  Take a plastic bag or bucket to carry the pine cones. 

The kind on the left in this photo is more typically used for decorating than the skinny kind on the right.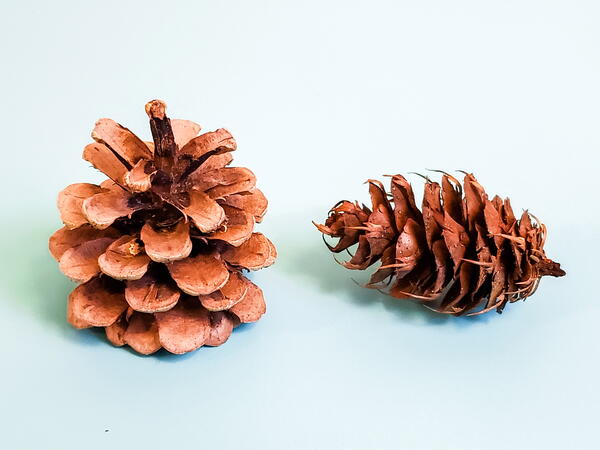 But wait! Remember that spiders and other bugs have probably been living in these pine cones! You won't want them spreading out through your house, or running across your holiday table, so let's get them all cleaned up before doing any crafting or decorating with them.
Different Ways to Clean Pine Cones
Brushing
If the pine cones have a lot of debris on them, start by using a soft bristle brush - even a toothbrush, to remove dirt, cobwebs and moss.
Washing
To wash pine cones, fill a bucket with enough water to submerge the pine cones. Then add one of the following cleaning agents:

-Water with vinegar - about 1 cup of vinegar
-Water with dish soap - one squirt of dish soap
-Water with bleach - ½ cup of bleach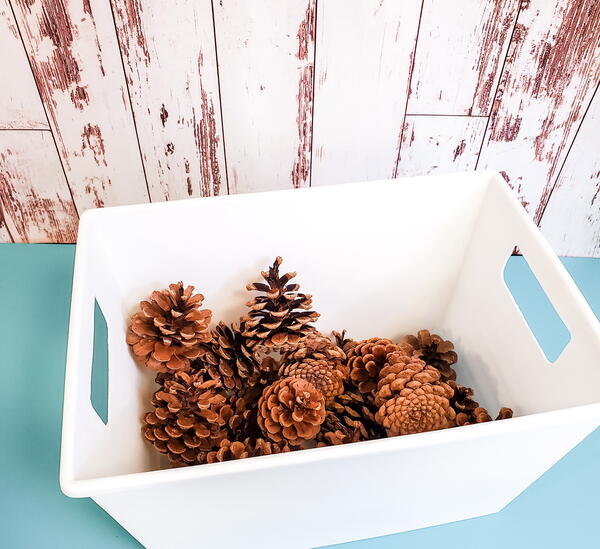 Gently stir the mixture around to combine and add the pine cones. If they float, weigh them down with a plate, a bowl, or another bucket. Soak in preferred solution for about 30 minutes

Finish with air drying or baking. Pine cones will often close up a bit when soaked, but will open back up with heat. Keep an eye on them so they don't open so much that they start to look unnatural.
Baking
To bake pine cones to remove bugs, heat your oven to 200 degrees. Lay pine cones out on a baking sheet lined with foil and leave in the oven for 30 minutes to 1 hour. 
If they look like they are opening up too much, take them out.

They may need a bit more time if they are wet from washing. Let pine cones cool completely before working on your project with them. They will have a "woodsy" smell, which shouldn't be surprising. If you find this to be unpleasant, let them cool in a garage or dry place outside.
Things to Make with Pine Cones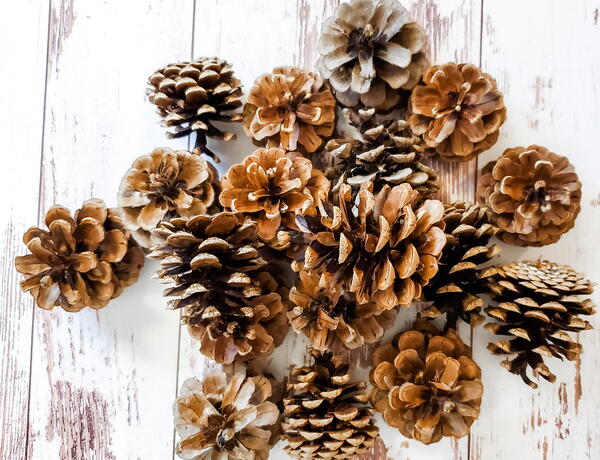 You'll find kid crafts, art projects, holiday decor and more. If packaged and stored carefully, decorations should be reusable for later years also.
Your Recently Viewed Projects
Join our community of 5 million crafters!
Get free craft projects, exclusive partner offers, and more.
Thank You for Signing Up!
There was an issue signing you up. Please check your email address, and try again.