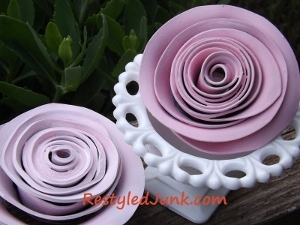 If you love flower craft ideas but don't want to break the bank, consider creating these Recycled Record Roses. This craft is perfect for anyone who isn't sure what to do with those crates of old albums. Unlike many recycled craft projects, this tutorial doesn't require a ton of time and effort. Cut the record with paper and cover it with paint - that's how easy it is to make your own fantastic florals. While this is a fantastic spring craft idea, you can use these flowers to decorate your space all year long (no water or sunlight is needed).
Primary TechniquePainting

Materials:
Oven
Bath towel
Vinyl record album
Cookie sheet
Household scissors
White acrylic paint (primer)
Paintbrush
Acrylic paint (desired rose color)
Instructions:
Preheat your oven to 350 degrees.

Cover your work surface with a thick bath towel.

Place an album on a cookie sheet and place it in the oven for 3 minutes.



Remove the cookie sheet from the oven and slide the softened album onto the towel.

Immediately cut into the album at a slant using household scissors. Begin cutting a spiral with an approximate width of 1 1/2 inches. When the album begins to cool and is hard to cut, place the album back on the cookie sheet and return it to the oven for one minute. Continue to cut the spiral, reheating as needed. Finish off the spiral at the edge of the paper label in the center of the album. Discard or set the center aside for a different project.



Reheat the album spiral. Start rolling the spiral from the outer first cut to create the bud of the rose. Continue to roll the remainder of the spiral, loosening and manipulating each round to shape the petals. Reheat as needed. Allow the shaped rose to cool until hard.



Note: Up to this point the rose can be reheated and manipulated as desired. Do not reheat after paint has been applied.

Apply a coat of white acrylic paint to the top, bottom and sides of the rose. Work the paint into sizable gaps that still show the black of the album. Allow the paint to dry. This is a primer coat. Apply an additional coat if desired.

Choose an acrylic paint for your rose color. Apply two coats to the top, bottom and sides of the rose. Allow the paint to dry thoroughly between coats.


Your Recently Viewed Projects