Eco Friendly Bag with Industrial Felt and Recycled Leather
Industrial wool felt is a sustainable and biodegradable material that works perfectly as a sturdy material for this bag. Recycled leather accents add attractive contrast and durability. This project comes to us from Jenya of MyEvaForeva.
---
If you love the look of leather, check out our roundup of 39 Easy Leather Crafts!
---
Materials:
1/2 yard (36" wide) industrial wool felt, 3mm 100% wool. You can find at Feltorama and other sources online, including Etsy
Recycled Leather or Scrap Leather Pieces
sewing machine or large sewing needle and strong thread
pliers
waterproof textile glue
plastic skirt hanger

Instructions:
Put the fabric you are going to use as your lining on the floor (or table) and put the felt on top. Cut the lining about 1 inch bigger than the felt.
Then cut out all the pockets you will need. I thought about this part long and hard before hand – what can be better than a bag with pockets just for your things to hold. I made one huge pocket on one side for my mail and magazines and another little one on top of the big one.
For the second side I cut out one long pocket and divided it into three – for my cell phone, my eyeglasses, and my other little stuff.
I also cut it out to be slightly wider than the lining itself so that I can make tiny pleats on its bottom to give my pockets some 3D form.
After you sew your pockets to your lining, fold it making sure the pockets are on the inside. Sew the sides of your lining.
Then take the bottom corner and fold it. Sew through the corner depending on how wide you want your bottom to be.
Then cut that corner out.
Do the same on the other side and turn the lining inside out to look how it turned out. Great! Now turn it back in because this is how it's going to go in the bag. You are done with the lining part for now.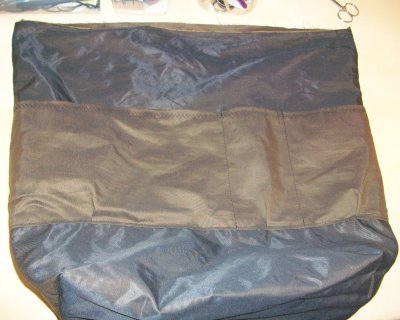 Take your felt and fold it together. Sew the sides by hand (or using your sewing machine).
I had to use a big needle and pliers. While you are at it, turn on your hot wax bath to warm it up – believe me, your fingers are going to need it. Ouch!!!
Then do the same thing on the bottom corners as you did with the lining, only now you fold the corner, take a metal ruler and press on the corner hard and cut it with box cutter. Then secure the opening by sewing it together.
Now stand the bag on top of your leather and draw the lines of where your leather part to go. In my case it looked like a cross. Kind of… Then cut it out and using waterproof textile glue, attach your leather part to the bottom of the bag. Make sure you open up the window when doing it – I got a bit giggly and happy, if you know what I mean. Also, I broke a plastic skirt hanger in two pieces and used it to secure the sides of the bag to hold the leather in place.
Now is the time for handles. Cut out two strips of leather (depending on how long you want your handles to be) and cut out the lining slightly longer than your leather strips and about 2.5 times wider.
Fold the fabric and attach the leather strip to it. I used sewing machine for this. On the ends, fold the remaining end of the lining under the leather strips.
Attach your strips to the bag. I used my poor sewing machine for this too, although I did this by turning the dial manually to prevent the needle from breaking. I did a big Z on each part.
Now you are ready to insert your lining into your bag. Fold the top edges inside toward the felt part and sew the ling to the felt along the top with your machine. By then it won't mind.
Guess what? You are done.
Your Recently Viewed Projects
Join our community of 5 million crafters!
Get free craft projects, exclusive partner offers, and more.
Thank You for Signing Up!
There was an issue signing you up. Please check your email address, and try again.