Coffee Jug Planter
Recycle an old coffee container by turning it into this Coffee Jug Planter from Susan Hamilton. This upcycled craft is perfect for Earth Day or Labor Day and is a fun way to reuse items you probably have around the house already. So pour yourself a big cup of coffee and get right to making this cute garden craft!
Using recycled materials to make brand new DIY crafts is a great way to celebrate the Earth by creating without having to use up any new materials. Projects like this one make fantastic teachable moments for young children, because you can explain to them how important it is to reuse materials whenever you can.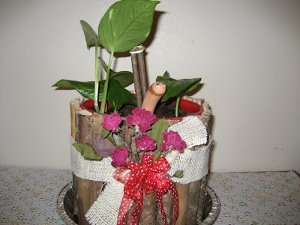 ---

Find even more DIY crafts that help you reuse and recycle materials you already have in our colleciton of 1000+ Recycled Crafts: Crafting with Recyclable Materials.
---
Materials:
1 empty, cleaned coffee container 27.8 oz (big size)
Several 6" dried straight sticks
2 pieces long dried branch without leaves
Glue sticks
Glue gun
Portable drill with 1/16 drill bit
Small manual saw
Potting soil
Plant
6 dried mini roses or any dried flowers
Chicken wire
Needle nose plier
Basket weave cloth
Red ribbon
Instructions:
Choose dried, straight sticks from the falling limbs of a tree. Cut them 6" long with a manual saw. If the dried stick is big, you can cut it into half.



Drill 5 holes on the cap and 5 holes on the bottom of the container.



With a warm glue gun on hand, attach the cap at the bottom. Fill in the gaps with glue, if possible. This will elevate a little bit the pot from the ground, so as not to wet the dried sticks when you water the plant.



With a warm glue gun on hand, attach one stick at a time on the side of the container. Fill in the gaps with glue, if possible. Attach other sticks around the container until all the sides are fully filled up. Be sure both ends of the sticks are evenly positioned at the top and bottom.



Fill the container with potting soil as you arrange the plant (Peace Lilly) on it. You can choose the kind of plant you like to put in the pot. In this case, I need to make a stand because this plant grows in a vine. Attach 2 dried, long branches together with a plastic tie. Stick it on the center of the pot. If possible, add more soil and then press the soil down to make the dried stick stand.



Cut 1 ½ inches wide and 30 inches long of leftover basket weave cloth (any cloth of your choice will do). Glue it around the container and tie it once.



Choose 6 dried roses or any small dried flowers you have. Be very careful in handling dried flowers as they easily tear apart. Arrange them first in your hand as you would like them to appear when glued on the cloth. In flower arranging, there should be the tallest one which is the focal flower, add the taller one, and then the lowest one. Arrange them in vertical levels like they are representing heaven, earth, and humankind in that order. Add other roses following the same principle and cut their stems, if possible.



Have a ribbon that is long enough to make 3 rounds around your 4 fingers as shown in the picture. Provide extra layer of ribbon on both ends. Carefully remove them from your fingers with your thumb holding them.



Tie the center with a chicken wire and twist it with a needle nose pliers. Leave an extra layer of ribbon with the same length as the other end before cutting it. Set aside and make another ribbon following the same procedure. Put the 2 ribbons together and twist the chicken wire with a needle nose pliers again. The 4 extra layers of ribbon should be hanging down and then spread out each layer. Position it first where to insert in the middle of the flowers. Cut the extra wire, apply glue, and insert it through the cloth on the center of the flowers.
Your Recently Viewed Projects
Join our community of 5 million crafters!
Get free craft projects, exclusive partner offers, and more.
Thank You for Signing Up!
There was an issue signing you up. Please check your email address, and try again.