Sparkling Jeweled Photo Frames
Proudly display all your family photos in these creative and unique picture frames! Sparkling Jeweled Photo Frames, made with Krylon paint, add sparkle and flash to any decor! When it comes to pictures of your loved ones, why settle for less?
See this project and more glittery crafts in our free eBook, How to Create 14 Sparkly Craft Projects Using Krylon Glitter Blast.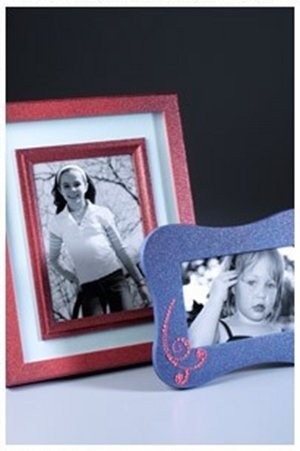 Materials:
Assorted picture frames
1 can Krylon® Indoor/Outdoor Primer
1 can Krylon® Glitter Blast™ Glitter Paint, Posh Pink
1 can Krylon® Glitter Blast™ Glitter Paint, Twilight Sky
Masking tape
Drop cloth
Adhesive-backed jewels or embellishments
Instructions:
Disassemble frames, removing glass insert and back.

Clean surfaces to be painted, making sure they are free of dirt and dust.

Mask off any areas you do not want to spray.

Spray with Krylon® Glitter Blast™. Apply multiple thin coats until desired glitter finish is achieved. Wait approximately 1 to 2 minutes between coats, shaking can before each coat. Spray in a sweeping motion beginning off the surface and continuing each pass off the other side. Let dry.

If desired, apply adhesive-backed jewels or embellishments for extra pizazz.

Tip: Use small pieces of wood for support to raise the frame above the surface so that the edges may be thoroughly painted and frames will not stick to the flat surface.


Your Recently Viewed Projects