Looking for a good way to show your pride in our nation? Then take a look at this fourth of July pattern from I Love to Create! With these instructions you will be able to create the perfect Patriotic Chef's Apron!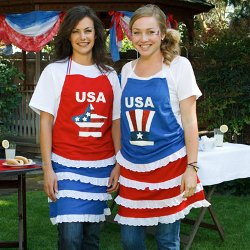 Materials:
Tulip® Fashion Glitter™ Shimmer Transfer Sheets: Primary
Tulip® Fabric Paintbrushes™
Tulip Soft® Fabric Paint: BI15784 Glacier White
Ribbon – red, white and blue – 2½ yards
Disposable plate
Permanent marker
Thread
Pencil
Scissors
Craft knife
Chalk
2 T-shirts – red, blue – large youth
Freezer paper
Pressing cloth
Eyelet trim – white – 3 yards
Iron
Patterns:

Pattern 3
Pattern 1
Pattern 2
Instructions:

Cut & Sew:
Cut both T-shirts as illustrated in the diagram.

Sew bottom of bodice to top of skirt, right sides facing.

Sew a 1 inch hem (casing) on sides and top, leaving an opening at top corners of bodice and where the skirt connects to the bodice for ribbon to feed through.

Thread ribbon through casing, up from bottom side of bodice and back down the other bodice casing, leaving a loop for neck.

Sew four rows of ruffled lace equally spaced onto the skirt portion of apron.
Embellishing:
Print out desired design pattern and cut out. Trace around design on bodice of apron with chalk.

Place pattern pieces on red and blue Shimmer Transfer Sheets as indicated and trace with permanent marker. Cut out with craft knife. Peel away clear liner from each piece and place glossy side down on apron bodice according to pattern. Cover with pressing cloth and iron 30 to 60 seconds. Check to make sure pieces have adhered to apron; if not, re-iron as necessary.

Pour Glacier White Soft Fabric Paint on disposable plate. Use Fabric Paintbrushes to paint a coat of Glacier White into the indicated areas of design. Let dry and add another coat if necessary.

Trace pattern for "USA" onto freezer paper.

Cut out with craft knife, discarding the inside area of letters to create stencil.

Lightly iron (wax side down) above painted design on apron. Do not iron over paint or Shimmer Transfer Sheet designs.

Paint the open areas of stencil with a coat of Glacier White. Let dry and repeat if necessary. Let dry.

Peel off freezer paper to reveal completed design.
Your Recently Viewed Projects