Sock Rabbit and Chick Friends
Use your old socks to create an Easter decoration. This is a great craft for you to do yourself. The kids will love seeing this. Have these up at your next Easter gathering.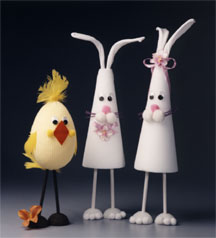 Materials:
For one Rabbit:

STYROFOAM* Brand Products:


1- 9" Cone
1- 2 1/2" Ball

1 pair of 20mm oval Wiggle eyes
Pom poms: white, one 1 1-1/2" , two 1", six 1/2"; pink, one 3/4"
1 Trouser sock or tights, white
Thread, white
Acrylic craft paint, white
1- 5/16" wooden dowel, 10" long
2 white chenille stems
Crewel wool or thick string, gray
Serrated knife
Paint brush
Scissors
Coping saw
Wooden skewer or chopstick
Thick, white craft glue
Low temperature glue gun and glue sticks
Satin ribbon, bows, silk flowers (optional)
For one Chick:

STYROFOAM* Brand Products:
1 pair of 20 mm oval Wiggle eyes
2 Pom poms, 1/2" yellow
Nylon sock, pastel yellow
Thread, pastel yellow
1- " Wooden dowel, 12" long
Acrylic craft paint, brown
Felt, 6 orange scrap
Craft feathers, yellow
Serrated knife
Coping saw
Paint brush
Scissors
Wooden skewer or chopstick
Low temperature glue gun and glue sticks
Silk flower (optional)
Sock-It-To-Me Rabbit & Chick Trio
Pattern
Steps:
Rabbit
Cut cuff from trouser sock. Cut a 5 1/2" piece from sock; cut in half length-wise and save for ears. Turn remaining toe section inside out, insert cone point first and pull sock tightly down over the base of cone; using a chopstick or wooden dowel, push excess stocking into the base of the cone until at least 1" has been tucked into cone and there are no wrinkles at the top of the cone. Adjust toe seam so it's centered at top of cone. If using tights, cut a 6" length from the toe and cover cone as above.

For each ear: Fold in half lengthwise reserved 5 1/2" stocking piece and stitch a 1/4" seam along sides and across one end; trim close to stitching and turn right side out. Fold chenille stem, creating long U-shape, and insert into stocking; fold over ends of stocking and twist together tightly ends of chenille stem. Clip a tiny hole in stocking at the top of cone for each ear. Put a small dab of glue over hole in stocking and push ear through hole and into cone. Arrange ears as desired.

Whiskers: Cut six 2" lengths of gray string or crewel wool; dip in white craft glue and squeeze out excess glue. Place strings on plastic wrap or wax paper to dry.

Glue pink pom pom nose to center of cone. Glue whiskers below the nose. Glue on 1" white pom pom cheeks and wiggly eyes. Trim whiskers, if desired.

Paint white two 5" lengths of dowel. Cut in half the 2 1/2" foam ball (hint: for smoother cuts, wax the knife blade with an old candle). Glue three 1/2" white pom poms to the front of each half ball for toes.

Snip two tiny holes in stocking at the bottom of the cone. Place a dot of glue on the hole and push dowel legs through holes and into cone. Place a dot of glue on center top of each foot and push other end of dowel deep into foot. Adjust for balance.

Embellish with ribbon, bows and flowers at chin or next to ears (optional).

Chick
Measuring from the cuff, cut a 6" length of yellow sock. Insert egg into tube. Place a small amount of glue on the center of the wide end of egg; using the chopstick or wooden skewer, push the sock edges into the wide end of egg until sock holds firmly. Stretch sock up and over narrow end of egg; tie off with thread; cut off excess, leaving a short tuft.

Cut in half the 2 1/2" foam ball (hint: for smoother cuts, wax the knife blade with an old candle). Paint half balls and two, 6" lengths of dowel brown.

Using pattern, cut beak from orange felt; glue to center of egg. Glue on yellow pom poms cheeks and wiggly eyes.

Glue feathers to the sides for wings, to the bottom for a tail, and to the top.

Add silk flower to one foot (optional).
®™ Trademark of The Dow Chemical Company ("Dow") or an affiliated company of Dow. For more project ideas, please see styrofoamstyle.com.
Your Recently Viewed Projects
Join our community of 5 million crafters!
Get free craft projects, exclusive partner offers, and more.
Thank You for Signing Up!
There was an issue signing you up. Please check your email address, and try again.