Pretty Trim Easter Eggs
Use your favorite sewing trims to create pretty eggs for Easter decorating. You can also use your fabric fabrics to create a quilted Easter egg with this project from Design Originals.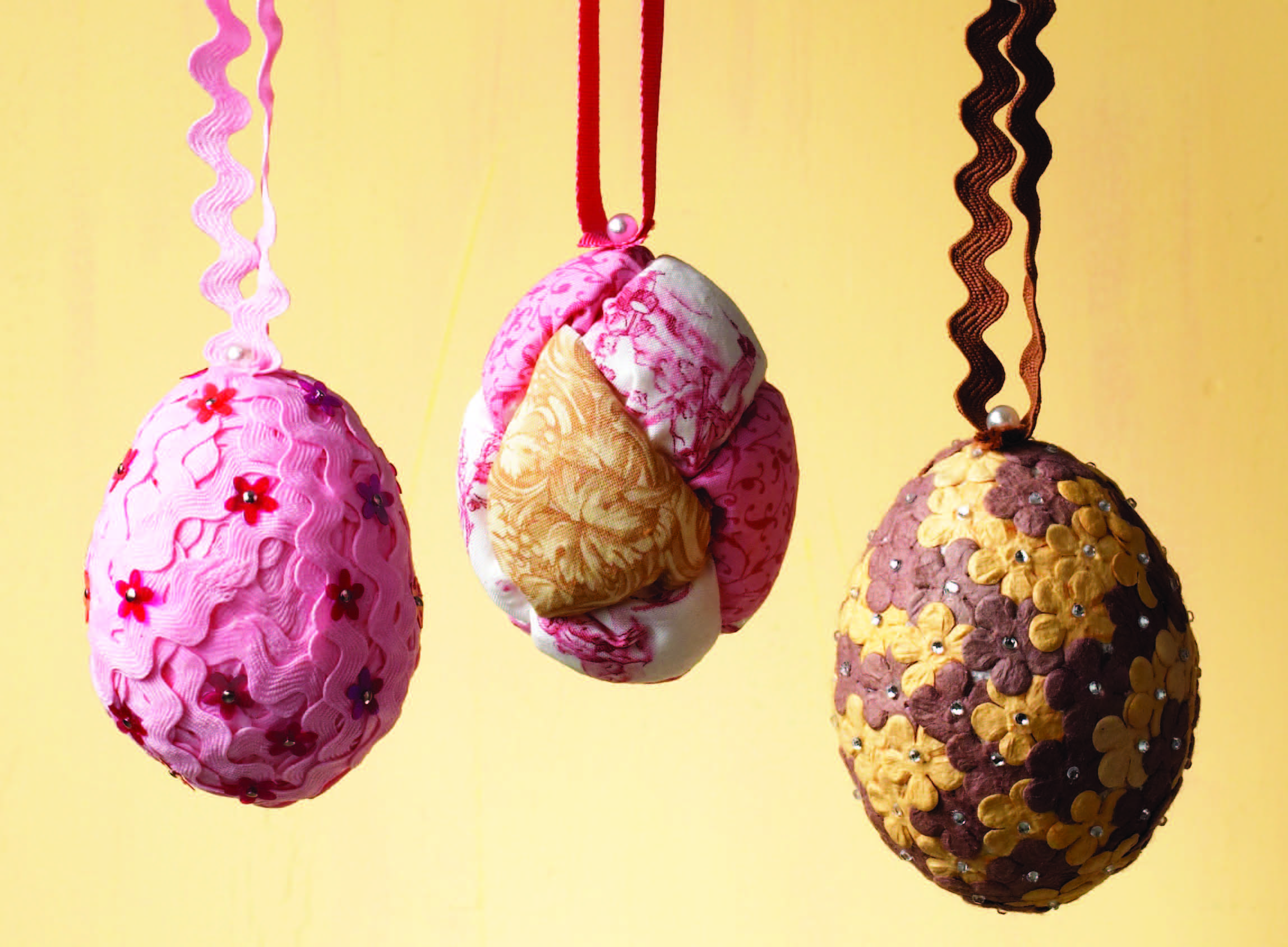 Size: 25⁄16" x 31⁄16"
Materials for all Eggs:
Styrofoam egg 25⁄16" x 31⁄16"
The Ultimate! glue
Rick Rack Egg
Rick Rack Egg
Materials:
Pink rickrack 1⁄2" wide (41⁄2" yards and 7" for the hanger)
Corsage pin
30 sequin flowers
30 beading pins
Instructions:
Apply glue to egg. Wrap rickrack around egg randomly. Add glue at strategic places where rickrack overlaps. Apply glue to ends of rickrack to secure. Fold 7" piece of rickrack in half overlapping ends. Place pin in ends and insert into top of egg. Insert pins into flowers and randomly push into egg to cover.

Quilted Egg
Materials:
10 fabric squares 2" x 2"
7" Pink 1⁄4" wide ribbon
Case knife
Instructions:
Lay 1 fabric square on egg. Using knife 1⁄8" away from edge, push fabric into styrofoam. Continue pushing in all edges. Lay 2nd piece of fabric on egg overlapping one edge of 1st piece by 1⁄8". Push fabricinto same space as edge of 1st piece. Push in remaining sides of 2nd piece. Continue placing fabric squares overlapping previous ones till egg is completely covered. Fold ribbon in half overlapping ends. Place pin in ends and insert in top of egg.
Flower and Rhinestone Egg
Materials:
125 flowers
125 small Clear rhinestones
7" of Brown 1⁄2" wide rickrack
Corsage pin
Instructions:
Cover egg with glue. Apply flowers randomly on egg, overlapping slightly. Apply rhinestones to flower centers. Fold rickrack in half and overlap ends. Place pin in ends and insert into the top of egg.
Your Recently Viewed Projects
Join our community of 5 million crafters!
Get free craft projects, exclusive partner offers, and more.
Thank You for Signing Up!
There was an issue signing you up. Please check your email address, and try again.