Looking for quick craft ideas that look great? Make yourself a pair of Hammered Copper Earrings from Candace Jedrowicz. These danglers are pretty, fun to wear and take less than an hour to make. Does it get any better than that?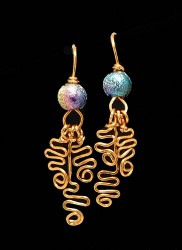 Materials:
Copper wire – 20 gauge
Wire cutters
Round nose pliers
Needle nose pliers
Accent beads with a hole large enough to accommodate two strands of 20 gauge wire
Fingernail file, fingernail buffer or very fine sand paper
Instructions:
Cut 8 pieces of wire in the following lengths: 2-1/2″ – cut 2, 2-3/4″ – cut 2, 3″ – cut 2, 4″ – cut 2. Set the 4″ lengths aside – they're for the ear wires.This photo shows beginning the wrapping of the longest wire first, however the first earring sets the lengths of all three dangle wires for the second earring.So, begin with the shortest wires. Make a small swirl on the end of one wire.



Start making the back and forth squiggly bends. Leave 1/2″ at the top to make the loop.Beginning right above the last squiggle, wrap the wire around one prong of the round nose pliers and secure by wrapping the tail of wire just under the loop. Cut off the excess, if you have any.



The squiggles on the longest wire begins below the other two wires, so complete the short and medium wires first.



Measure the long wire squiggles (leaving the 1/2″ to make the loop at the top) to end just below the short and medium squiggles.The straight length of the long wire allows the other two wires to dangle freely.



For the second earring, measure all the wires comparing them to the first earring, matching the direction of the swirls and bends.



When you put the second earring's dangles together you will flip each wire over to go the opposite direction for balance.



The next step gives the dangles a fun, kind of faceted look! Hammer the wires with a chasing hammer on both sides, re-form them if the squiggles spread out.If you don't have a chasing hammer or metal block to work on, improvise, or leave the wires as they are.



To make the ear wires – wrap the 4″ wire around the thickest part of the round nose pliers 1-1/3″ from one end. Crimp the tails while the wire is still on the pliers. This makes a large loop.Slide all three dangles on the loop.



Slide one bead over both tail pieces of the wire.



Wrap the shorter tail just above the bead.



Form the long tail over the handle of the pliers or other round object. Cut off the excess wire.Use the fingernail file to very gently sand the end of the ear wire to take off the sharp edges.


For a video tutorial of this project, check out How to Make Copper Hammered Earrings.
Your Recently Viewed Projects