Red and Wild Cherry Purse
Looking for free purse patterns to sew? This Red and Wild Cherry Purse from I Love to Create is a spectacular summer accessory for any fashionista. Learn how to make a handbag into a dazzling fashion statement by embellishing a plain straw purse with bright wool accents!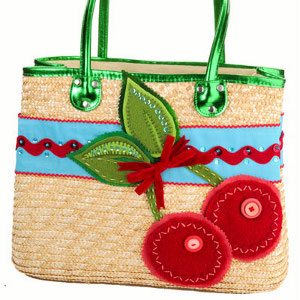 Materials:
Aleene's® Fabric Fusion® Permanent Dry Cleanable Fabric Adhesive
E- beads, turquoise
Wool Fabric: coral, olive green, dark green
Sequins: red, opalescent turquoise
Crayon
Ribbon, 1 yard ½" wide red velvet
Buttons: 1" coral (2), 3/8" lighter coral (2)
Toothpicks
Scissors
Ruler
Fabric, ¼ yard turquoise
Needle with large eye
Felted sweater, red,
Felt, lime green
Rickrack: 1 yard red jumbo, 1 yard medium red, 2 yards mini red
Foil
Pinking shears
Embroidery floss: coral, dark olive green, lime
Straw purse
Low tack masking tape
Instructions:
Cut a 4" wide, by circumference of purse from turquoise fabric.

Starting at back of purse and working in sections, apply a thin bead of Fabric Fusion glue along edges of fabric strip then press in place about 3" or so down from top edge. Overlap ends ½", trim if needed, then glue ends in place.

Cut patterns apart. Pin onto indicated fabric and follow pattern instructions for number and scissors to use.

Lay small inner leaf shape on smaller olive leaf. Thread needle with 6 strands of dark olive green embroidery floss then sew together with a straight stitch referring to photo for placement. Use lime floss to stitch basting stitch on other side of leaf. Glue onto dark green backing.

To create larger leaf, use dark olive green embroidery floss to sew olive leaf onto lime backing then glue to larger dark green leaf.

Use lime floss in short basting stitches along stems.

Layer red sweater onto coral wool. Cut a length of red rickrack and thread needle with coral floss. Place rickrack just in from edge of sweater then stitch across rick rack around entire circle, trimming ends to overlap then hold in place with a small dot of Fabric Fusion. Repeat with other cherry.

Working in short sections, add a very thin bead of Fabric Fusion along edge of turquoise strip then press in mini red rickrack trimming ends adding small pieces of tape if needed till dry. Glue jumbo rickrack around center. Let dry.

Squeeze out a small puddle of Fabric Fusion on foil. Use toothpick to add a small dot of glue between each dip of jumbo rickrack. Tap crayon onto turquoise sequin then press into glue – the crayon will hold sequin just long enough to place. Continue with sequins on both sides of rickrack. Glue same sequins to leaves. Add red sequins to top curve of jumbo rickrack. Add dot of glue in center then use crayon to set a turquoise e-bead. Let dry.

Layer large and small buttons then use red floss to sew onto cherry where shown.

Position all pieces in place then starting with stems, glue in place. Let dry.

To create bow, loop red ribbon back and forth several times, then use another piece to tie around center. Trim ends in "v" then glue in place. Let dry.
Your Recently Viewed Projects