This cowl is so easy, it's a crime! This Sinfully Easy Cowl is a great project for crochet fans of all skill levels, and a fun way to mix and match your favorite yarn colors. Make one for yourself and one for all your friends. These cool cowls make great stocking stuffers and gift ideas for everyone on your list.
Learning how to crochet can be difficult and sometimes you just need an easy peasy pattern to get you in the groove. Free crochet patterns that work up wicked fast this this crazy easy free cowl pattern will give you a seriously sickening sense of accomplishment. Plus, you can easy convert this cowl pattern to something bright and cheery with the right combo of yarn.



---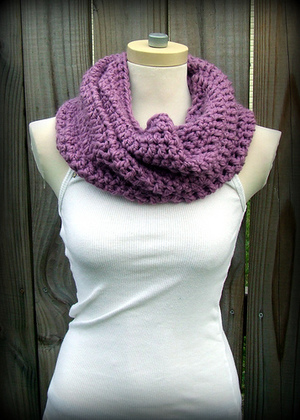 If you love this project, you are going to adore our collection of chic crochet cowl patterns.


---
How to Crochet a Cowl
Materials:
N Size Crochet Hook
1 skein Loops & Threads Charisma in Black
1 skein Loops & Threads Charisma in Purple
1 skein Loops & Threads Charisma in White
1 skein Loops & Threads Dewdrops in Amethyst
1 skein Loops & Threads Dewdrops in Diamond
Yarn needle
Scissors for cutting & finishing off ends
Notes:
Each round will finish with a slip stitch to the beginning cluster of the row.
Beginning Cluster:- ch 2 + 2 dc in the same stitch (the ch 2 will count as a dc for the beginning cluster only)
Pattern Cluster – 3 dc in same stitch
Do NOT chain any stitches between clusters.
It was my intention as I created this scarf that the clusters remain close, not too much space between as a more traditional cluster stitch may be, as I wanted this to be plush and cozy.
As you're working or even when you're done, I found that tugging the stitches both vertically and horizontally across the rows & columns helped to seat the clusters between other clusters making sure they settled where they were supposed to.
For changing colors I found it easiest to just tie off and cut the yarn mostly due to the number of colors in use and their mass to move around each other. It is your decision if you want to carry through or tie off.
Color Scheme:
Foundation Charisma Black
Row 1 Charisma Black
Row 2 Dewdrops Amethyst
Row 3 Dewdrops Diamond
Row 4 Charisma Purple
Row 5 Charisma White
Row 6 Charisma Purple
Row 7 Dewdrops Diamond
Row 8 Dewdrops Amethyst
Row 9 Charisma Black
Row 10 (sc) Charisma Black
Instructions:
Beginning Chain - chain 131 stitches, sc in 2nd stitch from hook, sc back to the beginning (130)

Row 1: (Black) ch 2, 2 dc in same st, skip 2 stitches, 3dc in next stitch. *skip 2 stitches, 3dc in next stitch* continue repeating from * to * until you reach the beginning cluster, sl st to join. Tie off & cut.

Row 2:-9: Repeat Row 1 – changing color with each new row, following the color scheme listed above or a color scheme of your own choosing.

Row 10: (still using black) sc in each stitch around. Sl st to the beginning stitch, bind off.

Finish off any remaining loose ends.
---
Want to work up more pretty crochet patterns? Check our our free downloadable eBook, 11 Crochet Shawl Patterns: Crochet Poncho Patterns, Free Easy Crochet Patterns and More.
---
Your Recently Viewed Projects