10 Free Crochet Baby Sweater Patterns
Find an easy crochet baby sweater to make for that upcoming baby shower!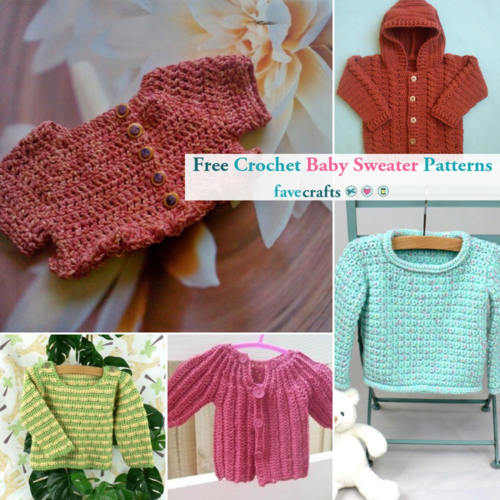 Make free crochet baby sweater patterns and pattern sets with this roundup! Discover one piece sweaters, cardigans, and more for baby boys and girls.

Runny noses, cold hands, heavy boots - winter can be so pretty but you sure have to bundle up! When the temperatures drop, be ready to keep your little one warm with some baby sweater patterns. Sweaters, jackets and cardigans are all great option during the chilly winter months, especially when it snows or rains. Say goodbye to fussiness and hello to a cooing little one.

If you're looking for free crochet patterns for baby, check out our collection of fun projects. Use pretty yarn, fun embellishments and cool motifs for your baby sweater patterns - you'll want to save each one and give them away to friends and family members as hand-me-downs.

There's no need to get nervous about winter - simply create a crochet baby sweater. Free pattern ideas will help you get excited for the season. Your warm and comfy baby may not be able to say "thank you" quite yet, but you'll be glad you took the time to check out these baby sweater patterns.
Free Crochet Baby Sweater Patterns
Essential Baby Sweater
The Essential Baby Sweater is a simply adorable project you'll want to have in your back pocket! The stitches are simple and the stripes an adorable detail. I can't get over those buttons!

Get the Pattern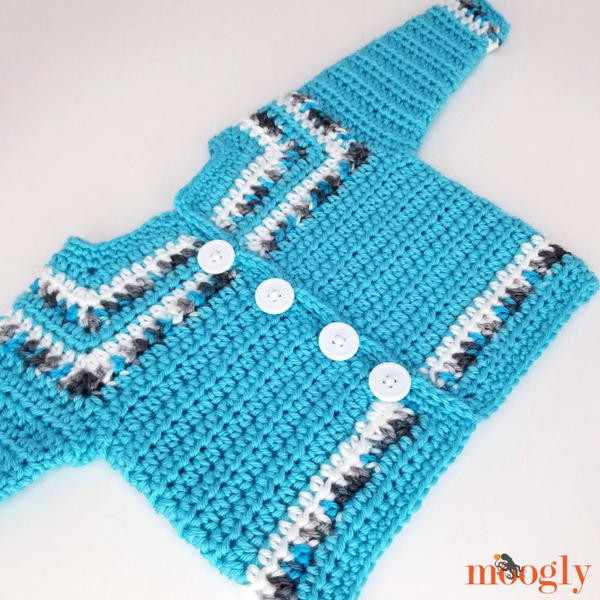 Crochet Round Neck Baby Jacket Sweater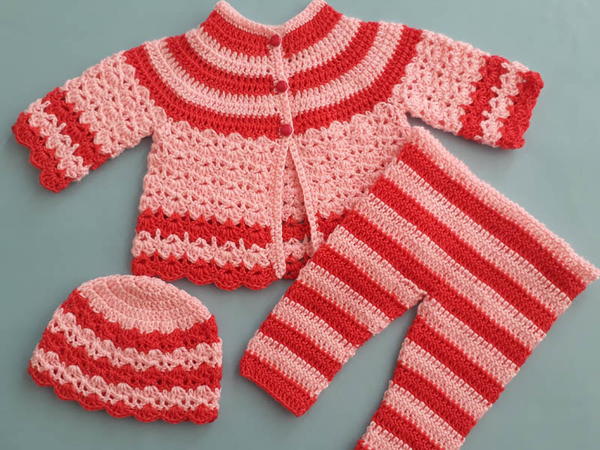 Crochet Baby Sweater Coat/Jacket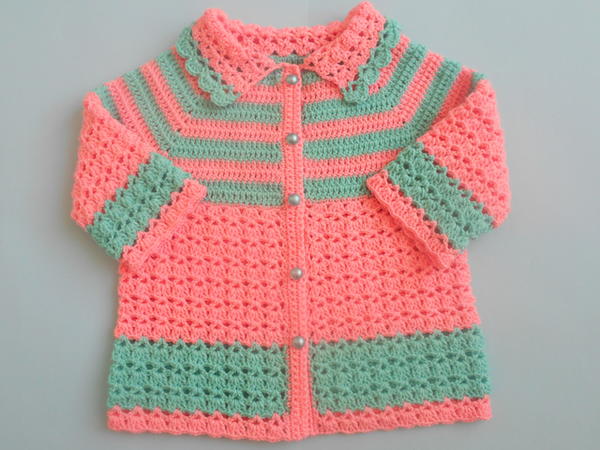 Baby Crochet Cabled Cardigan Sweater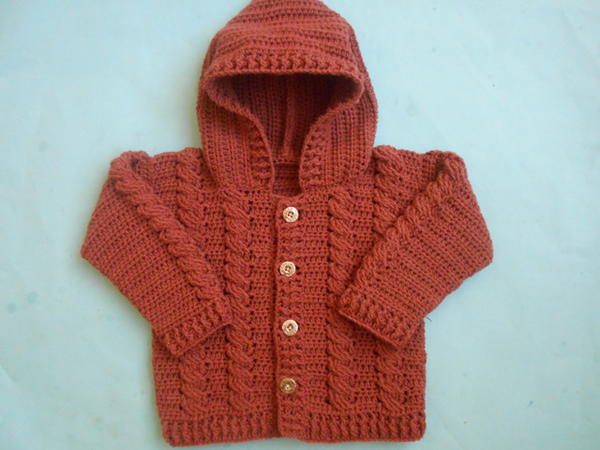 Striped Newborn Crochet Sweater Pattern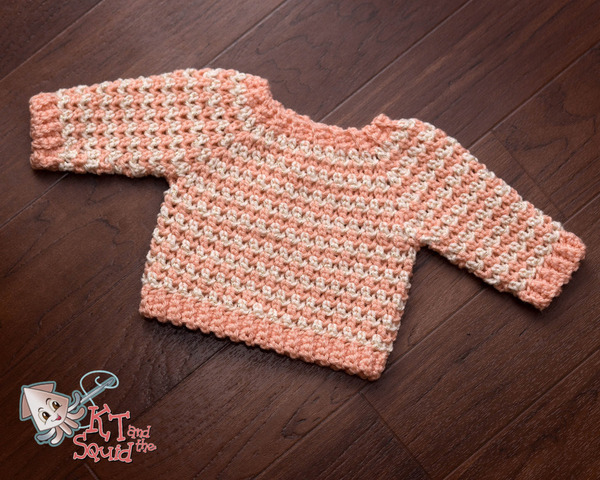 Easy Top-Down Sweater Free Crochet Pattern
If you're new to making sweaters, try this Easy Top-Down Sweater. One of the advantages of top-down sweaters is they require much less seaming than traditional patterns, which helps them work up more quickly!

Get the Pattern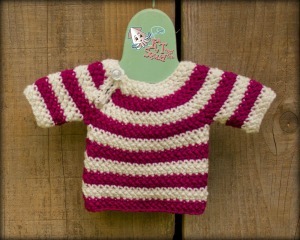 Primavera Crochet Baby Sweater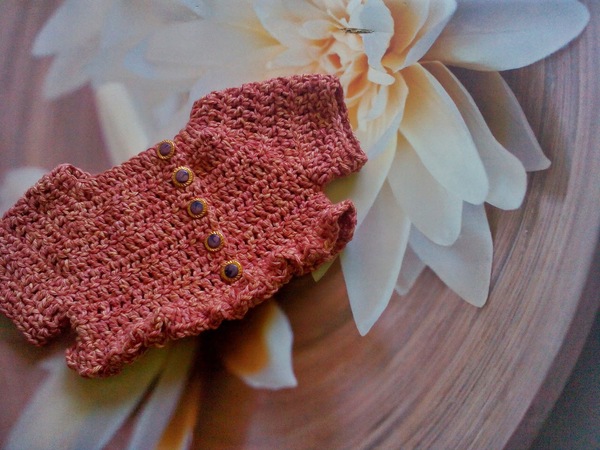 One Piece Baby Sweater
The One Piece Baby Sweater iscertainly be creative, but it's important to keep ease and comfort in mind. Take it easy and learn how to crochet a baby sweater that's both functional and cute.

Get the Pattern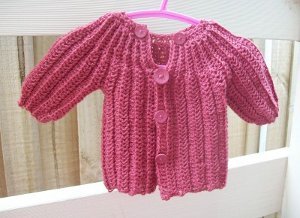 Striped Baby Sweater
Big or small, sweaters are the ultimate accessory when the weather gets cold. This Striped Baby Sweater is the perfect cozy pattern to work up, and the colors are just darling, especially for a shower where you don't know the baby's gender.

Get the Pattern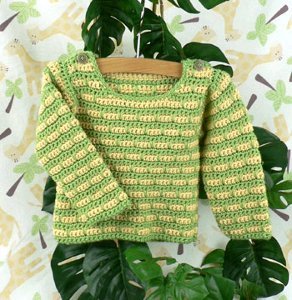 Keep it simple with this absolutely adorable Baby Pullover Sweater. The stitch work has deliciously plush texture, and the yarn used has delightful flecks of gray to add interest.

Get the Pattern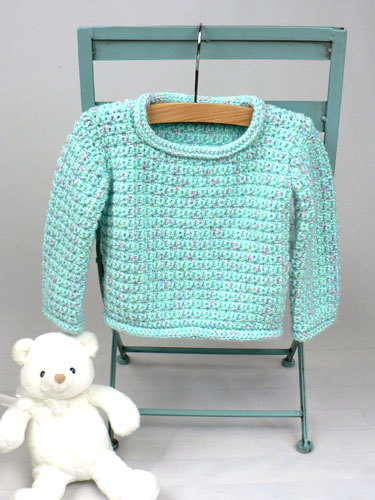 Your Recently Viewed Projects