Fun Sculpey Bake Shop® Colorful Crocs Jibbitz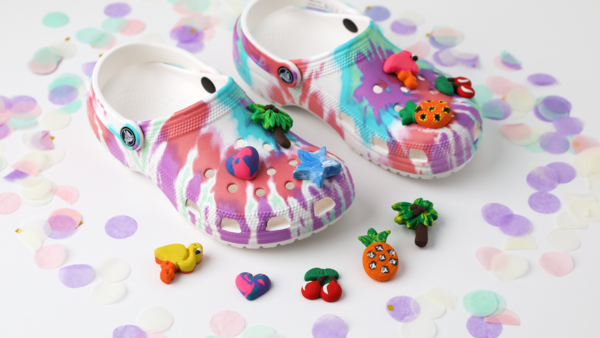 Fun Sculpey Bake Shop Colorful Crocs Jibbitz
"If you love Crocs shoes (or something similar), have we got the fun project for you! You can custom decorate your casual shoes with these fun "jibbitz" - little pieces designed to decorate your footware with styles you create using Sculpey Bake Shop clay! This is a fun project to work on with kids, or to create a bunch to give away as gifts, or even to sell! Check out how easy it is in the full instructions."

Materials List
Sculpey Bake Shop® Multi-pack 13 pc
Silicone ice cube trays or silicone candy making trays
Jibbitz
Silicone glue or instant drying glue
Getting Started:
Please make sure your work area is covered and you are not working on an unprotected surface. We recommend working on the Sculpey® Oven-Safe Work Mat, wax paper, metal baking sheet, or disposable foil. Uncured clay may damage unprotected furniture or finished surfaces. Be sure to cover your crafting area appropriately.

Start with clean hands, unwrap and knead clay until soft and smooth, or condition by running clay though a Pasta Machine. We recommend using a designated machine for clay purposes only. When working with multiple colors, clean hands with soap and water or baby wipes (we have found that baby wipes work best) before switching colors. Shape clay, pressing pieces firmly together. Wash hands after use.

Baking:
Begin by preheating oven to 275 °F (130 °C). After you are done creating; for best results bake clay on an oven-proof surface such metal, aluminum foil, an index card or the Sculpey® Clay Mat at 275°F (130 °C) for 30 minutes per 1/4" (6 mm) thickness according to package directions. Oven safe glass or ceramic surfaces are also acceptable for baking; however please note that the baking times may take longer as the glass or ceramic surfaces take longer to heat up. For best baking results, use an oven thermometer. DO NOT USE MICROWAVE OVEN. DO NOT EXCEED THE ABOVE TEMPERATURE OR RECOMMENDED BAKING TIME .
Instructions
Making Marbled Clay Some of your designs might look super cool if you marble different colors of clay together. Marbling can make styles look more realistic or just make them more exciting. You can marble any colors together any way you want to.

Take about 1/4 bar of Green and 1/4 bar of Yellow and make little logs.

Twist the two logs together to create stripes.

Fold the twist together in half and then in half again. Roll to smooth and then twist to multiply the stripes. Repeat this same step as much as you want to get the colors as blended as you want.

First make a little log of Brown and press it into the trunk part of the mold.

Break off bits of the marbled Green/Yellow log and press them into the leafy areas. You can use the included knife tool to help push pieces down into the details.

Carefully turn the mold inside out to eject the clay. Make extra leaf shapes from the marbled clay.

Add leaves to the front of the palm tree. Score lines in the leaves with the knife tool.

Add brown coconuts if you like. (Off to the right there is a Jibbitz. This will be glued on after baking.)

Bake the palm tree following the baking instructions for Bake Shop®. When the tree is completely cool, glue the Jibbitz on with silicone glue and allow to dry completely.

For the pineapple design, make a basic shape that will fill up the fruit area of the mold. I chose a Yellow ball and added brown spots to it. Press the spots to the ball really well.

Push the spot side in first filling up the fruit area with the ball.

Add more of the Green/Yellow clay to the leaf shapes at the top.

Carefully turn the mold inside out to release the pineapple.

Use tools to add details to the design. Then bake following the baking instructions for Sculpey Bake Shop®. Glue Jibbitz on after cooling.

Here's some inspiration for making your own Jibbitz!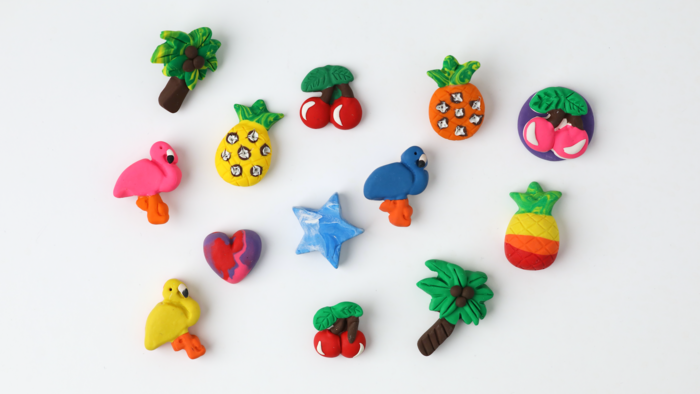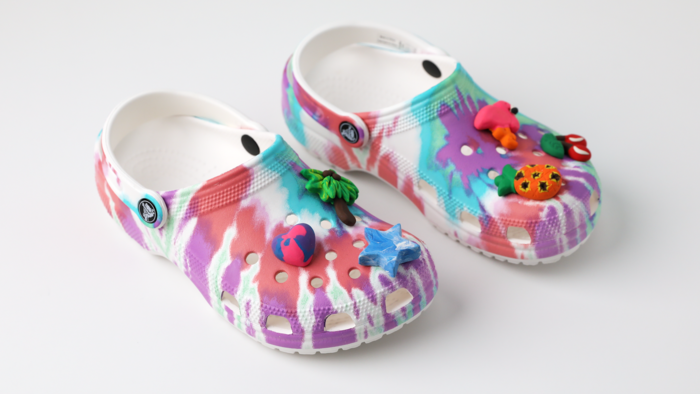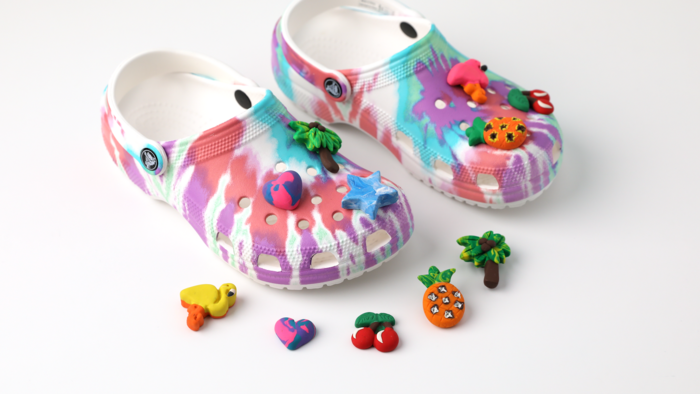 Your Recently Viewed Projects