Duct Tape Bags Review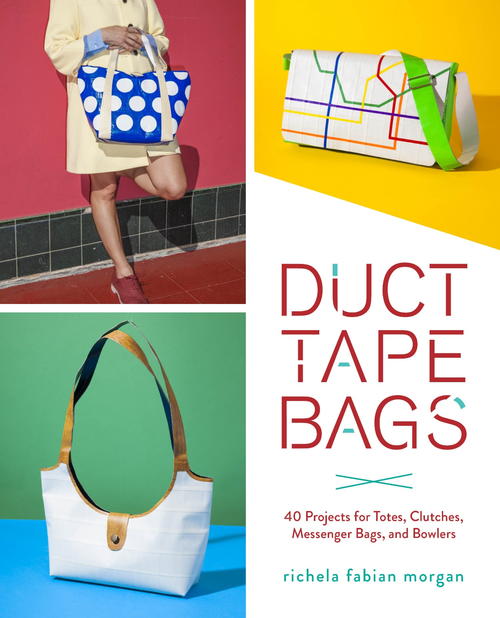 Duct Tape Bags Review
crownpublishing.com
Reviewed by Dana Byerwalter, Editor, FaveCrafts.com

Did you know duct tape can be stunningly beautiful? The duct tape prom dress trend showed the world one way duct tape can be gorgeous, and Duct Tape Bags shows us another. Designer Richela Fabian Morgan gives us patterns for 40 finished duct tape bags. Once completed, they hardly even resemble duct tape! Get inspired and follow the step-by-step instructions to make them. Soon you will have beautiful bags for every occasion, and made of duct tape no less.

There are so many perks to working with duct tape. In making "duct tape fabric" (creating sheets of duct tape adhered sticky-side-in), designers have a unique material that does not require sewn seams. Put that seam ripper away: you adhere this duct tape fabric with . . . more duct tape!

Surprisingly easy to make, these duct tape bags include easy step-by-step instructions complete with photos for reference. Be sure to visit the introductory sections in this book. In these sections, you will learn how to create the duct tape fabric and you'll also learn about the required and helpful materials for completing your projects. If you're an avid sewist, you'll find making duct tape bags a peaceful alternative to sewing. If you're a novice to working with duct tape, never fear! It's fairly easy to amend mistakes and the tape is so fun to play with. It's no wonder that duct tape wallets are still crazy popular!

Duct Tape Bags includes designs for a wide variety of purses. You'll learn how to make totes, clutches, messenger bags, bowlers, and more. Styles range from an everyday purse to a swanky evening bag. Some patterns are bold statement pieces, and others are made with neutral colors for regular wear. With duct tape, you can even make ruffles, patterns, woven designs, and so much more.

Each pattern is tagged with level of difficulty. One of my favorites in the book is called Oak Park (p. 85). The neutral colors, plaid design, and even the overall shape of the tote make this an excellent everyday bag that also boasts a bold pattern and moderate difficulty. I also love the snakeskin design of the Kemberly bag (p. 101). Since duct tape comes in so many exciting colors and patterns now, this bag has a classy look at a fraction of the cost of a real snakeskin purse!

Get inspired to craft with a new material. With Duct Tape Bags, you can create stunning purses in an unexpected way.

Check out our interview with Richela Fabian Morgan:

1. How long have you been making bags?

I've been making bags for about 10 years. It started with sewn paper, more specifically brown paper bags. I would deconstruct a brown grocery bag and then remake it into various types of bags. After playing around with duct tape wallets, I started experimenting with duct tape bags. My first duct tape bag was a black clutch that was essentially an oversized trifold wallet. My most recent bag is a tangerine baguette bag. (See picture.)

2. What is your favorite type of bag to make? To wear?

My favorite bag to make is the same as my favorite bag to wear. And I would usually say it's a messenger bag because I can really play around with the large flap, like a blank canvas. (See picture.) But at the moment, I love playing around with smaller shapes. The tangerine baguette bag is indicative of my current mood.

3. What advice do you have for beginners to making bags, and for beginners to working with duct tape?

My advice to beginners to making bags:

- Really look at how other bags are constructed. Note the location of the straps, the seams, the overall shape. This will give you a sense of what it takes to make a bag.

- Be realistic with your first project. Make an easy clutch bag or a basic tote that you can finish. Being unable to complete that first bag can discourage you from trying again.

My advice to beginners to working with duct tape:

- Start with small projects. They are more manageable.

- Figure out how much tape you'll need before you start. There is nothing more annoying than running out of tape in the middle of construction.

- Keep your cutting tools clean and well-oiled before, during, and after crafting. A sticky residue builds up on the blades of the scissors and/or craft knife, which can lead to accidents.

What is the most unexpected material you've used in a project?

Your Recently Viewed Projects
Join our community of 5 million crafters!
Get free craft projects, exclusive partner offers, and more.
Thank You for Signing Up!
There was an issue signing you up. Please check your email address, and try again.