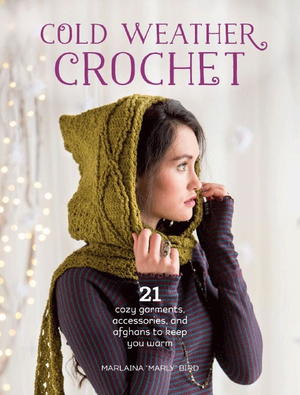 Cold Weather Crochet
By: Marlaina "Marly" Bird
Gifted by: F+W Media
www.fwcommunity.com
interweave.com
Reviewed by: Dana Byerwalter, Editor, FaveCrafts.com


Cozy up for the winter months with the latest release from Interweave, Cold Weather Crochet. This charming collection from Marlaina "Marly" Bird includes twenty-one patterns for comfy wearables and afghans to crochet this winter.

While this book features patterns for the colder weather, many of the pieces "defy the seasons" as Marly explains in her introduction. Perfect for layering up nearly any time of year (even in air-conditioned buildings during summer!), these patterns are as cozy as they are stylish. From hooded scarves to fingerless mitts and coordinating hat and cowl sets, the patterns in this collection are creative, fun, and perfect for a variety of occasions.

The patterns in the book each include detailed Finished Measurements, Yarn (weight, and also the particular brand and color of yarns used for each pattern), Hook, Notions (yarn needles, decorative buttons, etc.), and Gauge. There are five hat patterns, two shawls, five scarves/cowls, three afghans, two sock/slippers patterns, and two pattern sets. In other words, you have an extensive variety of patterns to work with in this beautiful collection!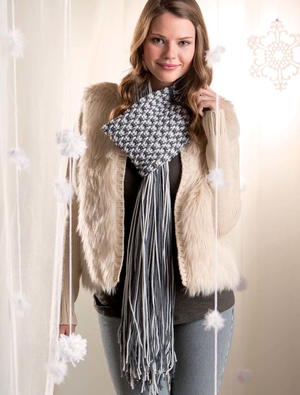 My favorite pattern hands down is the Keyhole Fringed Scarf (p. 50, pictured right). I thought the idea for this scarf was so unique! I love how long the fringe is, and the colors of this scarf are perfectly neutral to pair with any winter attire. It touches on this finished-meets-unfinished feel, and the contrast works so beautifully!

The Cabled Shawl is another favorite of mine. It features stunning texture with the cables as well as a striped border for a visually-appealing combination. Maybe it's because the pictured shawl is green or maybe because it looks so cozy, but this pattern makes me think of Ireland.

After the patterns you will find Abbreviations, Techniques, Sources for Yarn, and an Index. The Techniques section includes helpful diagrams of some intermediate-level crochet stitches, such as front post double crochet and reverse single crochet.

Don't miss this exciting new collection from Marly Bird. The patterns will keep you cozy no matter the temperature!


Check out our exclusive interview with Marly Bird below!
1. How did you come up with the idea for Cold Weather Crochet? What was your inspiration?

Living in Colorado, I am familiar with having to layer my clothing in order to prepare for the weather of the day. The morning might be cold, warm by noon, cool by evening, then cold at night. I always have a pair of fingerless gloves or a hat or a cowl or shawl with me to throw on anytime I need it.

2. What is your favorite pattern in your new book and why?

That is a difficult question to answer as I love all the projects for different reasons. If you ask me which one I've already made for me to have one to wear…that is the Big Pink Hat…but I made mine in Purple :-) If you ask me which one am I excited to get back so I can wear it…that is the Cable Shawl. If you ask me which blanket is my favorite…I LOVE the African Flower Afghan. If you ask which project was my favorite to make…that is the Cross Creek Hat. See hard to answer :-)

3. Which pattern type do you enjoy crocheting most? (Hats, scarves, gloves, etc?)

Well, my favorite things to design are garments. But my favorite things to crochet are accessories in general. I really like making cowls and shawls because I get to play with stitches and shapes without having to really make them fit like a garment.

4. What is your favorite crochet stitch?

My favorite crochet stitch is the combination of the single crochet/double crochet; sometimes it is called the Crochet Seed Stitch. I love the rhythm of it, the texture of it and the look of it. I used the stitch for the Log Cabin throw in the book and seriously LOVE IT!

5. What is one piece of advice you'd give to a new/intermediate crocheter? Similarly, what advice would you give to an aspiring crochet designer?

Oh, big question! Biggest piece of advice to a new/intermediate crocheter…whenever you get a chance to take a class from a professional crocheter designer/teacher do it. You never know what you will learn in even the simplest of classes. If you don't have a chance to go to an actual class be sure to take advantage of lessons/videos that crochet designers/teachers may put online…did I mention I have a YouTube Channel? *wink

As for advice for aspiring crochet designers…Hmmm, this is difficult because there is so much I can share (I actually teach a class on it at STITCHES called Hobby to Profession). I guess the biggest thing is to be sure to present yourself professionally at all times (in person and online), follow through, and stay positive.
Your Recently Viewed Projects