Design Originals Paper Crafts Book Collection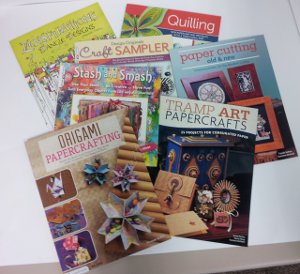 Collection of 7 Craft Books from Design Originals
Gifted by Design Originals
www.d-originals.com
Reviewed by Melissa Conner, Editor of FaveCrafts.com
Are you looking for some new and fun craft inspiration? Tired of the same old stuff and need some fresh ideas to keep you motivated? Well, then you're going to love this gift set of 7 awesome craft books, all brought to you by Design Originals. With books on how to Zentangle, quill, do origami, cut paper, create smash books, and some on just general crafting, there's sure to be something for everyone in this awesome gift set.
Included in this packet are the following books:
Zenspirations Dangle Designs
By Joanne Fink
Zentangle is a great relaxation technique and, although they may look complicated, they are actually quite easy to create! With a pen, a piece of paper, and a little imagination, you can create elegant and lovely designs that look professionally crafted. In her book, Zenspirations, author Joanne Fink teaches readers how to turn ordinary shapes into extraordinary designs. Her book is filled with helpful designs and ideas and provides you with several full-color Zentangle designs to help inspire and motivate you to keep doodling.
Quilling: New Papercrafting Projects with a Traditional Past
By Suzanne McNeill
Who would have thought that a little strip of paper could transform into something magical and fun? Quilling is an age-old crafting technique that has kept crafters busy for years, and now it's back...and better than ever. In her new book, Quilling: New Papercrafting Projects with a Traditional Past, author Suzanne McNeill shows readers how to create all kinds of cute designs by simply rolling and forming paper strips. Quilled embellishments are great for adding to scrapbook pages and greeting cards, and you won't believe all the fun shapes you can make with the help of this colorful and easy-to-follow guide.
Origami Papercrafting
By Suzanne McNeill
Tired of folding the same old crane? Learn some new and challenging origami techniques with Origami Papercrafting. With beautiful decoration ideas and lovely gifts that do not look like they're made of paper, the projects in this book are great for those who are looking to go above and beyond simple folding. With more than 36 stunning projects and lovely full-color photographs, Origami Papercrafting is a great book for those who love the ancient art of paper crafting.
Paper Cutting Old & New
By Carole Behrer and Suzanne McNeill
With a pair of scissors and a little patience, you can completely transform a piece of paper from something plain and ordinary into something absoutely spectacular. With the projects and patterns you'll find in Paper Cutting Old & New, you'll be able to make amazing designs that are perfect for framing, decorating, or using in your cardmaking or scrapbooking projects.
Tramp Art Papercrafts
By Vivian Peritts, Maria Filosa, and Suzanne McNeill
You can achiever the vintage look of notched wood for which Tramp Art is famous with just some corrugated cardboard and a few simple craft supplies. Corrugated cardboard crafting is fun for all ages, and there are so many ways you can use it in your projects. From stationary and notecards to lamp bases and candles, these Tramp Art papercrafts are great for decorating your home and creating timeless keepsakes for you and your loved ones.
Craft Sampler
By The Designers of Design Originals
This book contains 15 of the best projects from hundreds of craft books put out by Design Originals. Whether you're a fan of jewelry making, Zentangle, needle arts, kids crafts, or paper crafts, there's bound to be something for everyone in this awesome collection of tutorials. Best of all, each projects includes a photo and the name of the book from which it comes, so if you like what you see here, it's so easy to find more of what you love!
Stash and Smash
By Cindy Shepard
Stash books are a great way to store all those little mementos that mean the most to you. They are made to tell a story...to tell your story. Your book leaves evidence of what is important to you, your values, your interests, your talents, dreams, wishes, and desires. Filled iwth 120+ great ideas for creating your own Smash book, Stash and Smash can help you use your stash of clippings and paper scraps and turn them into colorful art journals. Stash books are great for crafters of all ages, and are perfect for remembering everything from your senior year of high school to the birth of your first baby.
Your Recently Viewed Projects