"Thanksgiving Crafts" eBook
Thanksgiving Crafts free eBook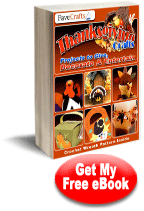 Table of Contents
We are excited to present our latest craft eBook with 30 craft projects for Thanksgiving. Welcome family and friends to a Thanksgiving feast at your home with homemade decorations and table accents. Find a great collection of Thanksgiving crafts for kids. Themes include turkeys, pilgrims, pumpkins, leaves and warm autumn colors. Find just the right project to make your house warm and inviting this Thanksgiving.
When you download this free eBook, Thanksgiving Crafts, you are guaranteeing that this Thanksgiving will be the most celebratory one yet. The first two projects will have you super excited for the autumn season to arrive: Be Thankful Sign with Bird (pg. 6) and Autumn Squirrel Wood Box (pg. 7). Perhaps you've never decorated for Thanksgiving before, opting instaed to focus solely on the delicious meal. This year, you'll be glad you got into the spirit of the holiday in more ways than one. While you're busy with decorations and table settings, make sure to get your little ones involved in these Thanksgiving crafts for kids. They'll be so proud when these Easy Turkey Napkin Rings (pg. 41) show up on the dinner table and they'll love wearing these Thankful Pin (pg. 48) all day long. This free eBook really has it all, so download it today!
Keep reading to see what other Thanksgiving crafts you can look forward to making this year. Make sure to download your free eBook today - turkey day will be here before you know it.
It's never too early to start your Thanksgving crafting!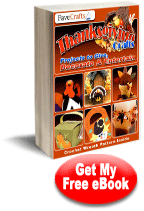 Download the Thanksgiving Crafts eBook for FREE now.

Paper crafts are great because they never get too complicated and they never make too big a dent in your wallet. Folding, cutting, gluing – paper can be used in many different ways to create many different crafts. While getting the turkey just right can be a challenge, creating Thanksgiving crafts using paper is simply a whole lot of fun. You'll have a blast choosing different colors and patterns that fit perfectly with the Thanksgiving theme. Paper crafts have a whimsical handmade touch and you'll surely enjoy making each project in this eBook. Our eBook, Thanksgiving Crafts, features various Thanksgiving-themed cards that can be used as both a placeholder on your dinner table or an invitation to your Thanksgiving celebration. On page 9 you'll find the Turkey Day Thanksgiving Card that has a vintage feel perfect for celebrating one of the most important days in American history. The warm autumn colors you will use to create the card will get you in the mood for bundling up and watching the leaves fall. Use them as invitations to your Thanksgiving dinner and all your invitees will surely RSVP "Yes!" The Pumpkin Gift Box on page 13 is an adorable way to package something special for someone special. You can give Thanksgiving party favors for guests to take home after your big turkey dinner and store them in these little boxes. Decorated with bright orange pumpkins, this Pumpkin Gift Box is perfect for storage during the fall season. You can't go wrong with any of the paper crafts in this free eBook. What are you waiting for? Click below to download the free eBook now.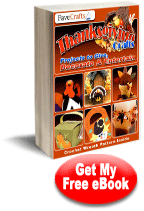 Download the Thanksgiving Crafts eBook for FREE now.
Our collection of handmade Thanksgiving decorations is chalk full of wreaths, garlands, and other crafts that will get your home ready for the holiday. Combine a crochet craft with a wreath craft and what do you have? None other than our Crochet Thanksgiving Turkey Wreath (pg. 14). Guests shouldn't have to wait for the delicious smell of a turkey in the oven to creep up into their noses before they feel completely enveloped in Thanksgiving spirit. Instead, the holiday should greet them right at the front door in the form of this fabulous Crochet Thanksgiving Turkey Wreath. When you hang this wreath on your door, every passerby will surely be thankful for the bit of holiday spirit it gives them. You'll also love the Harvest Indian Corn crochet project on page 22. Doesn't it seem like you only see Indian corn around Thanksgiving? It's so beautiful and unique looking, it's a shame we don't see it all year round. This Harvest Indian Corn craft is an adorable Thanksgiving decoration that you can use from year to year. It's the most creative crochet we've seen yet! Guests at your home will be so impressed when they see this project displayed in any room. To find out what other Thanksgiving decorations you can make for your home this year, download this free eBook, Thanksgiving Crafts right now!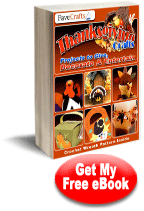 Download the Thanksgiving Crafts eBook for FREE now.
We all know that if the Thanksgiving meal isn't right, nothing is right! But the food isn't the only aspect of the day that you need to have prepared perfectly. The table setting is just as important. Guests should feel like they're walking into a Thanksgiving wonderland when they see your decked out dining room. Inside this free eBook, you'll find centerpieces, table runners, place mats and more. Check out our Autumn Harvest Centerpiece on page 33. This Thanksgiving centerpiece is a real stunner. Made with colored leaves and candles, it sets the mood for a beautiful evening full of gratitude and joy. You won't believe how easy it is to make something that is so elegant. On page 37 you'll find our Autumn Table Runner. It has a subtle design that will have your dinner guests feeling particularly full of spirit sitting at your table. Your table shouldn't be full of tacky, overpriced, store-bought Thanksgiving decorations. Instead it should be just as delicious and satisfying as the food you serve your guests. Each craft under the Table Setting category is so easy to make. In so little time, you'll have a table that the pilgrims and Indians could have only dreamed of!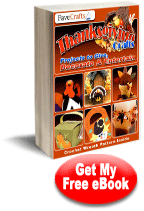 Download the Thanksgiving Crafts eBook for FREE now.
Thanksgiving is a very exciting holiday for kids. The story of the Indians and the pilgrims coming together to make peace and eat a giant turkey dinner is one that every little kid loves to hear from year to year. This year you can make the magic come to life by getting your kids involved in crafting projects. On page 45 you'll find these Thanksgiving Indian and Pilgrim Table Toppers. They're so much fun to make and they look so cute as a decoration on the dinner table or anywhere around the house. The kids will be so proud when they see their table toppers put on display. The kids will also love making these Thankful Pins (pg. 48). Sure, from time to time everyone's children act a tiny bit spoiled. With these Thankful Pins, your kids have the opportunity to take a moment to think about and show the world what they appreciate. It's a fun craft for them and it will definitely warm your heart. Thanksgiving kids crafts are a great way to spend some time with your family. Don't let Thanksgiving only be about the meal. Make it about togetherness with this free eBook. Download our free eBook, Thanksgiving Crafts today!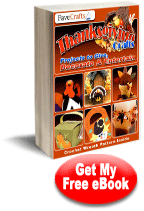 Download the Thanksgiving Crafts eBook for FREE now.
For help downloading our eBooks, see our help document here.
With your free copy of Thanksgiving Crafts eBook you can also subscribe to our Create and Celebrate newsletter to become part of a community of holiday crafters. In subscribing to the newsletter you will receive:
Weekly emails with free craft projects, tips, collection pages, videos and more
DIY ideas and inspiration for all of your favorite holidays, including Christmas, Halloween, Fourth of July, Valentine's Day and more
Access to our free project library full of hundreds of free craft instructions
The opportunity to share ideas and help others in the crafting community
This sneak peek of what this new eBook has in store for you hopefully has you rushing to download it free. If any or all of these crafts appeal to you, click on one of the eBook icons anywhere on this page to download your free copy of Thanksgiving Crafts. You won't regret downloading this free eBook and printing phenomenal crafts! Once you get your copy, you can either keep it on your computer or eReader, or print it out and keep it in your craft room. No matter how you use your eBook, once you've tried even one of these crafts, you'll be glad you downloaded it.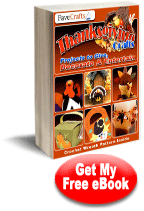 Download the Thanksgiving Crafts eBook for FREE now.
Your Recently Viewed Projects
Join our community of 5 million crafters!
Get free craft projects, exclusive partner offers, and more.
Thank You for Signing Up!
There was an issue signing you up. Please check your email address, and try again.