"9 Thanksgiving Decorations to Make" eBook
9 Thanksgiving Decorations to Make free eBook from FaveCrafts.com

Welcome guests to your home for the Thanksgiving feast or celebrate the harvest season with this collection of 9 Thanksgiving Decorations to Make. With these Thanksgiving craft ideas you can surround your home in warm autumn colors all November long. Plus, you will find a number of Thanksgiving ideas to decorate your dining table in style but for minimal to no cost. Your home will be the talk of the town during the holidays.
Five of these Thanksgiving decorations use a fall-favorite theme: leaves. In an array of colors, autumn leaves Thanksgiving decorations like the Leaves Table Runner (pg. 10) are a great way to bring the beautiful outdoors into your home. Add some sparkle to your Thanksgiving tablescape with the Sparkle and Shine Pumpkins (pg. 9), made with real or foam pumpkins. Look for tiny pumpkin at your local farmer's market for these fun Thanksgiving craft ideas.
Don't leave your home sparse with a lack holiday spirit; break out the craft bin and get to work on these great Thanksgiving decorations to make. If you want to turn your turkey feast into an elegant affair, then add a few Autumn Reflection Candle Holders (pg. 12) to your table. All of these crafts are simple to make and will spruce up your home until it is brimming with food, family, and holiday spirit.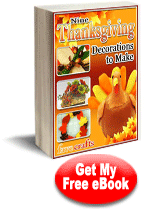 Download the 9 Thanksgiving Decorations eBook for FREE now! (pdf)
Don't Miss Our Other eBooks!
Be sure to check out our entire collection of eBooks. You'll find titles such as:
---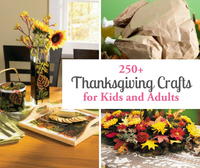 You can find all of our Thanksgiving collections in one place! Visit 250+ Thanksgiving Crafts for Kids and Adults for more Thanksgiving crafting inspiration.
---
Thanksgiving Decorations Included in this eBook:

It's no secret that the table is the center of attention during Thanksgiving. Adorned with a beautiful turkey, cranberries, and mashed potatoes, the table is the place to look during mealtime. Don't forget about making Thanksgiving decorations so your table extra is special to look at before the food is served. All of these Thanksgiving craft ideas will give you that extra something you know you were missing. Every host wants all eyes on their beautifully decorated table when friends and relatives come over to celebrate the holiday so make sure your guests have something to look at. These Thanksgiving decorations to make are beautiful and will complement the red and orange leaves you see falling off trees.
If you're out of ideas for Thanksgiving table decorations, then try making Thanksgiving Table Decor. Use colorful berries and leaves to create a beautiful and natural tablescape for your Thanksgiving feast. Find table accents, table rings and more suggestions for Thanksgiving decorations in this project (pg. 5). You won't be racking your brain for ideas because they're all right here! Beginning crafters will love these Thanksgiving craft ideas because they take little to no time at all. You only need minimal sewing skills to sew together this autumn table runner with felt leaves. With the Leaves Table Runner you can make a whole series of Thanksgiving decorations using homemade felt leaves to decorate the table (pg. 10). This Thanksgiving craft idea is simple and low-cost, making it perfect for the busy holiday season.
Thanksgiving decorations to make during the holiday are so much fun. You can make them in early November to build up excitement, and when Thanksgiving rolls around, your house will be decorated in style with great Thanksgiving craft ideas.


When the first red and orange leaf drops from a changing tree, you know it's time for fall. You can break out the pumpkins, turkey feathers, and leaf projects during October and November to celebrate the harvest season. This Thanksgiving, get in touch with nature by using materials found outside to make indoor Thanksgiving decorations. Leaf projects are perfect for Thanksgiving because of their rich color and flexibilty. You can make anything you want with them, and kids can even help out with these Thanksgiving decorations to make.
Making Thanksgiving crafts out of leaves brings a little bit of nature inside, making your house feel as cozy as a fire. Try the Fall Leaves Soap Bar craft, a specialty leaf project. Make one-time-use soaps that look exactly like autumn leaves with this soap making project perfect for Thanksgiving craft ideas. Make your own soaps scented with orange spice fragrance for beautiful and unique Thanksgiving decoration (pg. 15). Your guests will love using little leaf-shaped soaps during the holiday. For a twist on those Thanksgiving craft ideas using felt, the Felt Leaves Garland craft project has you crochet and felt your own autumn leaves using rich-colored yarn. For the truly ambitious, make your own Thanksgiving decorations with homemade felt.
Thanksgiving decorations to make look great up around the house, especially when they are nature-themed. Everyone loves jumpnig into a pile of leaves, and now you can use them in other fun ways.

While summer has bright colors like pink and blue, and winter has the reds and greens of Christmas, fall has it's own color pallette. Warm fall colors are beautiful, so make sure your Thanksgiving decorations match all of the red, orange, and yellow that is outside your window. This Thanksgiving, inspire others with the colors of your home, and as soon as they walk in they will feel instantly welcome. You'll want Thanksgiving craft ideas that are colorful and cozy, just like fall.
Thanksgiving isn't all about turkeys and leaves; don't forget about pumpkins too! Try the Sparkle and Shine Pumpkins craft for a new twist on the traditional (pg. 9). This elegant Thanksgiving decoration is tons of fun to make, because you get to paint a little pumpkin until it shines. Place your finished product around the house for an extra fancy feel. Another fancy craft is the Autumn Reflections Candle Holder, which is sure to light up your holiday (pg. 12). This beautiful Thanksgiving decoration to make is for the ambitious crafter who wants an elegant decoration. Your guests will love the soft, flickering light of this craft, and you will be proud to display your creation.
Fall theme ideas are great because you just have to look outside for inspiration. Everyone loves the red and orange colors that now cover the ground because it's such a cozy feel. You can translate this warm feeling into your home on Thanksgiving day by making beautiful Thanksgiving decorations. Inspired crafts always look the best, and there's no better theme than fall.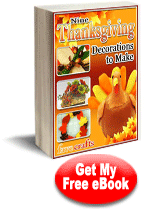 Download the 9 Thanksgiving Decorations eBook for FREE now! (pdf)
Find our latest eBooks here.
Find our complete list of published eBooks here.
For tips on downloading our eBooks, see the eBook Help Document.
As you can see, there are plenty of Thanksgiving craft ideas. Thanksgiving is a time to celebrate with family and friends, so don't stress about making Thanksgiving decorations. Your house can be beautifully decorated in a jiff when you use simple materials like felt and fake flowers. You can make a candle holder, leaf projects, or sparkling pumpkins to spruce up your home for the holidays.
With your free copy of 9 Thanksgiving Decorations to Make, you can also subscribe to our Quick and Crafty newsletter to become part of the FaveCrafts community. In subscribing to the newsletter, you will receive:
Five weekly emails with free crafting patterns, tips, collection pages, videos and more + a weekly wrap-up.
Chances to win books and products from our weekly giveaways and contests.
New FREE patterns and eBooks made available to you throughout the year.
Access to our free pattern library full of over 1,000 of free crafting patterns.
The opportunity to share ideas and help others in the crafting community.
Make this the best Thanksgiving you've ever had with these awesome Thanksgiving craft ideas. From a pretty candle holder to delightful home decor ideas, the projects in 9 Thanksgiving Decorations to Make are great for crafters of all ages and expertise. Download your free copy of 9 Thanksgiving Decorations to Make today!
Your Recently Viewed Projects