15 Easy Craft Ideas, Genius Tips and DIY Projects
Sure there are tons of easy DIY crafts out there, but there aren't a ton of great tips and tricks to try. Luckily, this collection of 15 Easy Craft Ideas, Genius Tips and DIY Projects has you covered.

We asked FaveCrafts readers from across the globe to send us their their best bits of crafting advice. We've compiled some of our favorites and added in some free craft projects to boot. Use these genius ideas to create new and interesting DIY craft projects.

These crafting ideas will help you save money, stay organized and work more efficiently. Be sure to bookmark these great craft ideas and save it for later - it's a great resource for a true crafter.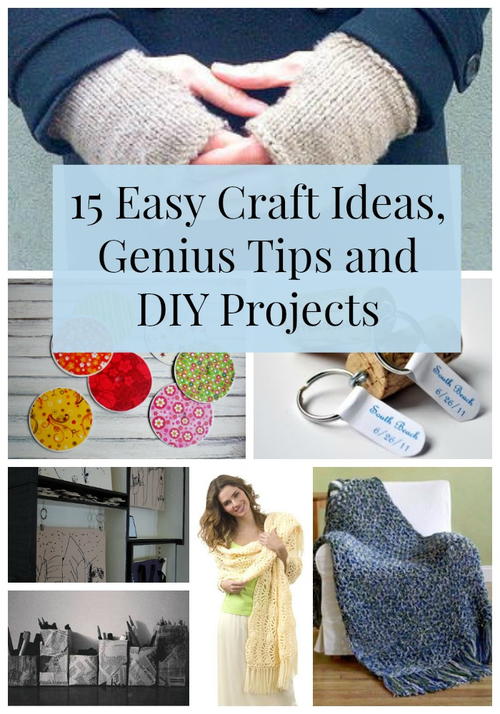 15 Easy Craft Ideas, Genius Tips and DIY Projects
Table of Contents
---

What's better than one miniature crafts? Try 25 Mini Handmade Craft Ideas! This collection of teeny tiny DIY projects will have you saying "Awww." If you're looking for easy DIY crafts that really stand out, these projects will surely keep you busy. Each of these easy craft ideas is completely unique and so much fun to make.
---
Crochet Craft Ideas
DIY Ideas From Our Readers:

"When you change yarn in crochet projects, it is easier to 'hide' the tails by crocheting them into the stitches." - Lisa S
"Crafting tip.... like to make knitted or crocheted slippers... but they tend to be slippery on wood and tile floors.. use a glue gun to make small flat dots on the bottom for traction. The cool glue is best." - L McPhilomy
"If you don't have a stitch marker available for knitting or crochet, use a paperclip, safety pin, orthodontic elastic (unused, of course)." - Rose L.
"Here's my crafting tip: Sometimes it is hard to find the beginning stitch for a row of crochet decorative edging that is using the same color yarn. What I do is mark that stitch by pulling a short piece of different colored yarn around that stitch with my crochet hook and tying it in a simple knot. Very simple to do and eliminates the need to purchase row markers." - Caroline L.
Easy Craft Ideas:
Orange and Blue Crochet Slippers

Hooded Poncho Cowl Crochet Pattern

Under 6 Hours Crochet Throw Pattern
Knitting Craft Ideas
DIY Ideas From Our Readers:

"My crafting tip is when knitting you need to attach a new ball of yarn, knit the first stitch with one strand and the second stitch with two strands of yarn. T his helps attach the new ball." - Connie R.
"I am making a knitted cable slipper, and couldn't find my cable needle. I was about to panic and saw the pencil O was using to keep track of my rows. I slipped the stitches on to the pencIl, knitted the next stitches, then slipped the stitches from the pencIl back to the left needle and continued knitting. It saved my sanity and I was able to continue my knitting." - Joann C.
"You can use the dental floss given to you at the dentist office as a life line for your lace knitting." - Anonymous
Easy Craft Ideas:
---

When it comes to DIY craft projects you should never be embarrased about being cheap. Save some money and make amazing easy DIY crafts with our free printable eBook, Cheap and Easy Crafts. In this collection, you'll find free crochet patterns, crafts for kids and even craft ideas for the holidays. Be sure to print this eBook out and save it for later - it's sure to help inspire you when you're looking for new craft ideas.
---
Green Craft Ideas
DIY Ideas From Our Readers:

I like to knit and crochet, so about once a month I stop into Goodwill and look for sweaters made out of fine yarn that I can recycle. I have found woolens, silks, and cottons that were lightly used that can be taken apart and reused for nice projects. - Debbie M.
You can reuse the big plastic jugs that nuts or trail mix and such come in. If you drill a hole in the lid they make for great yarn holders. - Anonymous
As a way to save money and recycle, I cut down the side and across the bottom of the plastic bag that comes in cereal boxes, flatten it, wipe down the inside side, and use instead of wax paper, etc., as a crafting surface for painting, etc. - Taffie H.
My crafting tip is to always reuse old peanut butter contains as storage. Wash the container out, take off the label, decorate it however you want and you have a new jar for storing bits and pieces in. Also, for those who crochet, a pencil/pen holder or cup makes a wonderful hook storage. I have most of my aluminium and steel hooks in one. It's nice to be able to pick one out whenever I need it without having to search for it. - Anonymous
Easy Craft Ideas:
Storage Craft Ideas
DIY Ideas From Our Readers:

"To keep all my craft tools and scraps organized I put everything into an old tackle box that used to belong to my Dad." - Debra O
"Craft tip - To store small craft supplies, use an over-the-door hanging organizer. Most come with clear plastic pockets so that you can easily see what is in each. This type of organizer makes use of wasted space, freeing up the crafting area. I use mine to hold thread spools, ribbon rolls, glue sticks, craft wire and much more!" - Irena J.
"My crafting tip is store all of your tubes of opened paint and glue in ziplock bags. If one gets punctured or the lid isn't on tightly it prevents a big mess in the craft box" - Charlsie
"Store yarn in plastic bags, (project bags or the plastic bags with closures that bedding or clothing come in). Place cedar moth balls in each bag & in containers I keep bags in." - Rose R.

Easy Craft Ideas:

Pringles Can Storage Container

Dollar Store Desk Organizers Easy Craft Project

Recycled Milk Carton Stationery Organizer
Free Craft Video Tutorial:

How to Crochet a Button
---
Leave a comment

- share your best craft tip below!
---
Your Recently Viewed Projects
Join our community of 5 million crafters!
Get free craft projects, exclusive partner offers, and more.
Thank You for Signing Up!
There was an issue signing you up. Please check your email address, and try again.