DIY Fidget Apron for Alzheimer's and Dementia Patients
Also known as a busy apron or activity apron.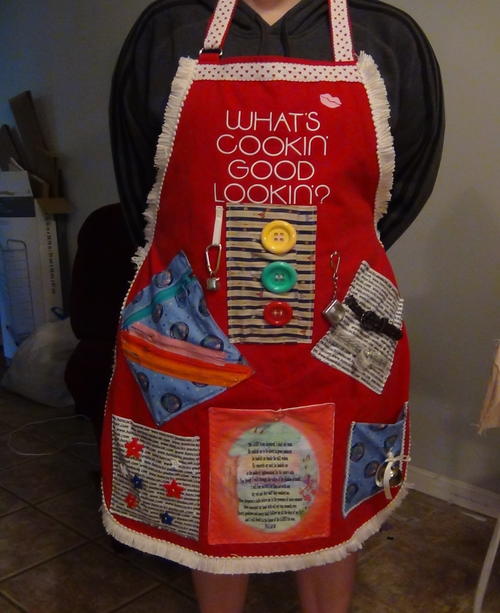 DIY Fidget Apron for Alzheimers and Dementia Patients
Learn how to make a fidget apron. This fidget apron pattern is an easy project to make and so meaningful!

Help a loved one suffering from Alzheimer's or dementia by making them this busy apron. Sensory materials are important to have on-hand during this difficult time, so creating an activity apron filled with sensory items helps. This is a project you could also make for charity. It's easy to make when you start with a plain apron from the store. Explore these ideas for pockets, zippers, buttons, and more with this tutorial.

What is a fidget apron? A fidget apron is designed for Alzheimer's and dementia patients because they need activity and "fidget". Hence you can find or make mats, quilts, pillows, or aprons with objects, textures, and sensory activities they can handle and finger with those ever-moving fingers and hands.

Scroll down to read more about this project, including the inspiration behind it as well as the tutorial itself.

Video Tutorial:

From the designer: "My video tutorial shows some of the process for making the apron and I hope it shows some of the essence of Mary who is still there but can't get across to us what she wants to say. There are so many components that can be used to make these sensory pieces so look around and see what you already have that may be familiar to the patient."
Project TypeMake a Project
Materials List
An apron [I used one I had]. Patterns are readily available.
Fabric for the pockets-maybe a yard total
Fidgets: ribbons, elastics, belts, buttons, snaps, yarns, zippers, ties, fabrics with different textures, pictures, keys, measuring tapes/scales, stuffed animals
How to Make a Fidget Apron
How to Bartak
Everything was sewn on by machine-buttons, snaps, zippers. To sew buttons, etc. use a bartack setting.

To bartack: use zigzag stitch with length on 0 and width set at the width between the button holes-speedy and more secure than hand stitching.
How to Make Fidget Pockets
Zipper Fidget Pockets
For zipper fidget pocket you will need a 7" zipper plus 1-3 other 7" zippers (optional)
Cut 3" x 8 1/2" rectangle: with right sizes facing, fold in half lengthwise, sew short ends, turn right side out.

Cut 8 1/2" x 17" rectangle: with right sides facing, fold to 8 1/2" square, sew around leaving opening to tun right side out sew zipper(s) on.

Sew rectangles to zipper as shown to form pocket.
Button/Buttonhole Fidget
Cut rectangle to 10 1/2" x 24".

Fold 3" to wrong side on each 10 1/2" side.

Mark and sew buttonholes on one 10 1/2" side.

Mark and Sew Buttons on opposite 10 1/2" side.

Fold 6" towards center on each 10 1/2" side right side in to form a 6" x 10 1/2" rectangle.

Sew across on both 10 1/2" sides---turn right side out.

More ideas and options for pockets:
About This Fidget Apron
My family is fairly well acquainted with the effects of Alzheimer's and dementia. My sister, Jackie, was activities coordinator in the Alzheimer's unit at a nursing home. Our other sister, Shirley, and I helped her out in activities on occasion. Jackie kept the patients busy as you can see in this video we made as they painted on fabric.
 
My sister-in-law, Alma, was affected by Alzheimer's also and was cared for at home as long as possible and we saw her pulling away over time and almost impossible to care for by just one person.
 
Then a couple of years ago my good friend, Mary, told me she had been diagnosed with Alzheimer's and was rightly upset to know what can happen because our church group goes into nursing homes to sing and socialize with residents twice a month. Mary got progressively worse and then was in a car wreck which drove her more quickly into the disease.
 
Mary, my friend Mary, an excellent homemaker and cook who could open a sick sewing machine and have it running in no time, who was a working dynamo, who made beautiful wedding gowns with embroidery, who could sew almost anything, doesn't even know now how to turn on any of her many sewing machines.
 
Mary's daughter put out a call to ask if anyone could make a "fidget" quilt for her. I offered to make an apron so Mary could wear it and keep it with her. I told Vickie that I would be using components that Mary had used all the time in her sewing room so it would be custom made.
 
This piece was hard, it was hard to get started on, it was hard to stay on task but when the idea came to make the "fidgets" as the pockets it all came together. Mary can sit and feel the fringe that is sewn all around the edge, she can button and unbutton to her hearts content, zip and unzip, snap, measure with familiar tools and notions she has used for many years. 
Here are images of Mary with her new apron:
Your Recently Viewed Projects
Join our community of 5 million crafters!
Get free craft projects, exclusive partner offers, and more.
Thank You for Signing Up!
There was an issue signing you up. Please check your email address, and try again.