Grandma's Wonderful Gift Tote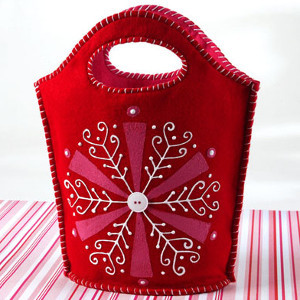 You already have the perfect gift for your loved one, so now all you need is a homemade gift idea to put it in. Grandma's Wonderful Gift Tote will fill the receiver with joy even before they peek inside. Once you sew this lovely bag, everyone will wonder what treasures are held within. This homemade Christmas gift wrapping idea is just as special as the gift itself. Sew Grandma's Wonderful Gift Tote for picture-perfect reusable fun all holiday season long.

Sewn byEither Hand or Machine
Materials:
Tulip® Dimensional Fabric Paint

Pink (65010)
White (65000)

Tracing paper
(1) Button –1" white
Permanent felt pen
White chalk – sharpened to a point
Foil
Sewing machine with matching thread
Embroidery floss – white
Sewing pins
Pencil
Needle with large eye
Scissors
Self-adhesive shelf paper
Paper towels
Plastic knife
Felt yardage – pink, red – ½ yard each
Instructions:
Enlarge bag pattern to 14" from handle to base and 12" at widest part, then draw in hole for handle. Cut an oval base for bag that's 8 ½" x 4 ½".

Pin tote and base pattern onto double layer of red felt then cut out. Repeat on a double layer of pink felt.

Layer and pin together pink and red felt pieces with red facing outward. Sew a ¼" seam along top edge and around inside handle on both sections. Trim seams if necessary to even out.

Pin sides together then sew along edges.

Thread a needle with three strands of white embroidery floss then tie a knot in ends, creating six strands. Whip stitch around sides, inside handle and along top edge.

Use pencil to trace triangle pattern design onto tracing paper, then trace five more, equally spacing to create snowflake as shown.

Place shelf paper shiny side up over pattern then use felt pen to trace design onto shelf paper. To create stencil, carefully cut out inside of each section, leaving outside edges intact.

Position stencil on tote, press to secure then run a finger along inside cut edges to prevent paint seepage.

Squeeze a puddle of Pink Slick 3D Fashion Paint onto foil. Use knife to spread paint into each section of design, leaving an even coat. Carefully remove stencil and let dry.

Trace other design onto tracing paper. Flip pattern over then use chalk to trace over lines. Position design between each painted section on bag then run a finger along lines, transferring design in chalk onto bag. Repeat steps, retracing design with more chalk as needed.

Start flow of White Slick on paper towel, using an even pressure on bottle for a smooth line. Trace over design lines with White Slick. Add pink dots with a white dot in center where shown. Squeeze a dot of Pink Slick at center of snowflake design then press button into paint. Refer to photo. Let dry.

Pin bottom sections in place then whip stitch along edges.
Your Recently Viewed Projects