Ol' Man Journal Cover
It doesn't get much greener than this Ol' Man Journal Cover from Heidi Brochers. Learn how to make a journal cover that stares back at you by trying out this project. Green crafts like this one are so much fun to make because they involve different crafting techniques. By trying out this recycled craft, you'll cut, glue and paint your way to a creative homemade piece. No need to make yourself journal everyday. This DIY journal will make you you eager to record your daily thoughts.
Materials:
Cool2Cast (available at ShopCool2Craft.com or available at all Michaels stores (in polymer clay department after 6/1/13)
Cereal box cardboard
Tree Pattern - Cool2Cast Green Man Journal Heidi Borchers
Pencil
Scissors
Non-stick foil (large enough to catch over-spill when pouring Cool2Cast over cardboard tree)
Plastic zip bag
Water
Measuring cup
Face mold (old man or Santa face molds work well)
Spatula
Wax paper
Craft knife
Alcohol inks (browns, greens, rust)
Rubbing alcohol
Brush
Journal covers (you can use mat board)
Paper (for inside journal)
Custom painted tissue papers (to collage onto journal cover)
Heavy duty hole punch (to punch binding holes in journal covers)
Ribbon (to bind journal covers and papers together)
Aleene's Original Tacky Glue
Aleene's Decoupage - matte or gloss finish
Brush (for decoupage)
Embellishments - handmade paper,small and medium beads, micro beads, sheet moss, birds, wire spirals
Instructions:
Place foil onto level work surface.

Cut tree pattern from cereal box and place on foil.

Mix approximately 1 cup batch of Cool2cast in zip bag according to package directions. Snip bottom corner of bag to create pour spout.

Pour Cool2Cast over cardboard tree. You will notice that the cardboard absorbs the water very quickly so the Cool2Cast will start to solidify quickly.

Pour excess Cool2Cast into face mold (and other small molds if you have additional remaining). Tap the molds to release any trapped bubbles and set the face molds aside to dry for approximately 1 hour.

Use spatula to start smoothing and spreading Cool2Cast to cover all areas of cardboard tree. Your Cool2Cast should be solidifying at this point.

Use spatula to lift tree from foil and move onto clean piece of wax paper.

Use tip of spatula to draw bark lines into Cool2Cast. Set aside to dry for several hours.

When your Cool2Cast face is set, unmold and place on foil.

Mix a small batch of Cool2Cast and pour a small circle onto foil. Carefully place the face into the wet puddle of Cool2Cast. Let dry undisturbed. (Note: if you are using the Santa Clause face mold, you will also want to pour Cool2Cast over his hat area so that he transforms into a green man.)

When your tree is dry, remove from wax paper. Clean up any rough branch edges with craft knife. Place tree back onto clean wax paper.

Apply alcohol inks either directly from bottle or dilute with alcohol and brush on. Layer colors or spray with alcohol for interesting effects. Repeat technique to color green man face. Let dry.Cool2Cast Green Man Journal Full

Use Aleene's Decoupage to collage handmade papers onto journal cover. Let dry.

Use Aleene's Tacky Glue to glue tree in place on journal cover. Glue face in place on tree.

Use glue to apply beads, wire, moss around tree branches and around green man face. Let dry.

Bind covers and papers together with ribbon. Tie ribbon in bow and add beads to ribbon streams.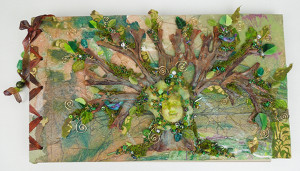 Your Recently Viewed Projects
Join our community of 5 million crafters!
Get free craft projects, exclusive partner offers, and more.
Thank You for Signing Up!
There was an issue signing you up. Please check your email address, and try again.