24 Simple Scrapbook Layouts free eBook
24 Simple Scrapbook Layouts Free eBook
Create amazing keepsakes with these genius scrapbook page layouts!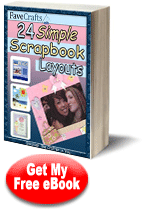 Keeping all your memories together can be a fun time. Find all your old photos and make something new with them. The team at FaveCrafts has put together 24 Simple Scrapbook Layouts free eBook, which is full of simple scrapbook layouts. Keeping all your memories together can be a fun time. Find all your old photos and make something new with them. These scrapbook page ideas are perfect for family photos, wedding photos, summer events and much more.

Kids can get in on the act, too. Pages like the Family Love Scrapbook Layout (p. 32) are perfect for excited children who want to share their family memories. You can also use the pages in 24 Simple Scrapbook Layouts to give to someone special. Loved ones will love the Best Friends Scrapbook Page (p. 16) and won't believe it was created by your hands!

Get excited to make more memories and start documenting them in a special book. These scrapbook layouts help you think outside the book; in fact, they can be pretty darn fun! Round up some inexpensive materials and start thinking creatively - these pages are a perfect way to keep your memories safe. The more you creatively show display your photos, the more likely a child will want to enjoy them again and again.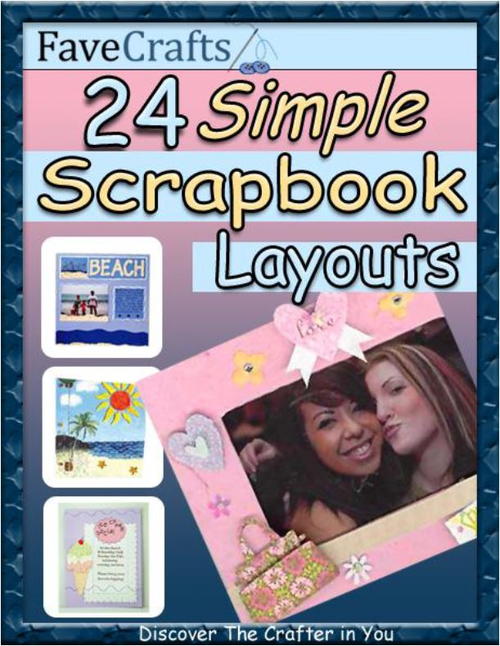 24 Simple Scrapbook Layouts free eBook Table of Contents
Note from the Editors
Hi Scrapbookers,

If you're like us, then you love to keep the memories of good times alive. Continue taking pictures of your kids' birthday parties and those fun softball games during the summer. Start the new year with happy memories. Make some fabulous simple scrapbook layouts to share with your friends and family. It's always such a nice thing to be able to go back through memory lane. The team at FaveCrafts has put together this great eBook, 24 Simple Scrapbook Layouts, just for you. In it you can find all sorts of scrapbook layouts, pages and ideas. It's a great thing to get creative and design your pages.

You can find more scrapbook ideas, free crochet patterns, free knitting patterns, craft projects and extensive decorating ideas at www.FaveCrafts.com.
Our eBooks, like all our craft projects, are absolutely FREE to members of our crafting community. Please feel free to share with family and friends and ask them to sign up at our website for our free e-mail newsletter.

Happy Scrapping,



The Editors of FaveCrafts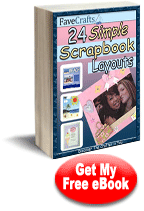 Download your free copy of 24 Simple Scrapbook Layouts today!
What's in this Free eBook
Birthday and Summer Scrapbook Pages
Birthdays can be fun for everyone. Presents are exciting to get and to give, and the memories may last a lifetime. Instead of keeping your photos saved onto the computer, create a scrapbook to store the memories in a fun way. Disorganized and don't know what to do with all those photos? Create a lovely Happy Birthday Scrapbook Page (pg. 5). Remember those great birthday parties with these cute birthday scrapbook pages. Kids can also help by adding stickers and other easy embellishments. Moms and dads can help kids decide how to format the page. Be sure to take lots of pictures at your next party - you'll want to add it to your scrapbook. Display it in the living room - guests will want to flip through it.
Special Moments Layouts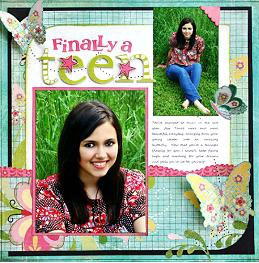 Commemorate that special coming-of-age with this pretty "Finally a Teen" Scrapbook Layout (pg. 12). Sometimes it feels like there are too many special occasions - and too many good times to remember. Never forget a fun memory again with your very own scrapbook. In addition to being fun and colorful, there are plenty of ideas and ways to make it truly personal. While simply saving images to your computer is easier, scrapbooks become actual treasures to keep in a special place. Select a few scrapbook ideas for every occassion and preserve the moment - it's seriously contagious!
Beach Days Scrapbook Layouts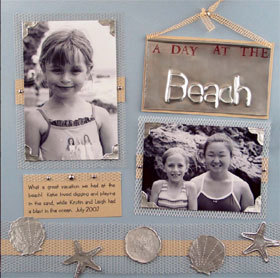 There is never a bad time to dream about the beach. Just because your vacation is over doesn't mean you can't relive the memories. You don't have to imagine that you're back on the beach, because a scrapbook will send you there itself. Pick a few beach scrapbook ideas that will appeal to you and your family and get excited all over again. To ensure that your fun in the sun is never forgotten; create a scrapbook that you can cherish for a lifetime. Beach Day Scrapbook Layout page (pg. 26) created using metal embossing, wire form and stamp art is easy to create with these simple steps. Keep your sandy memories safe forever with this cute quick and easy scrapbook layout idea.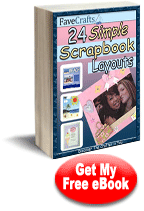 Download your free copy of 24 Simple Scrapbook Layouts today!
Need Help Downloading?
You can easily download and print out each book for on-hand reference while crafting. For help downloading our eBooks, check out the FAQ here: How to Download our eBooks.

Don't Miss Our Other eBooks!
Be sure to check out our entire collection of eBooks. You'll find titles such as:
Sign Up for Our Free Newsletter
With your free copy of 24 Simple Scrapbook Layouts, you can also subscribe to our Quick and Crafty newsletter to become part of the FaveCrafts community. In subscribing to the newsletter, you will receive:
Daily emails with free crafting patterns, tips, collection pages, videos and more + a weekly wrap-up.
Chances to win books and products from our weekly giveaways and contests.
New FREE patterns and eBooks made available to you throughout the year.
Access to our free pattern library full of over 1,000 of free crafting patterns.
The opportunity to share ideas and help others in the crafting community.

Filled with lots of fun scrapbook ideas, 24 Simple Scrapbook Layouts is a great go-to guide for memory books. You will love creating your own book to keep your pictures in and relive old memories. Plus, these pages will inspire you to try some of your own. Try these page ideas for any occasion and reap the rewards. Documenting memories have to be boring - these back to scrapbook ideas are fun and cretive. Find out how to make your own scrapbook for birthdays, vacations, and more. Scrapbooks help everyone bond and enjoy old photographs and timeless stories.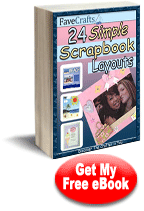 Download the 24 Simple Scrapbook Layouts eBook for FREE!



Your Recently Viewed Projects
Join our community of 5 million crafters!
Get free craft projects, exclusive partner offers, and more.
Thank You for Signing Up!
There was an issue signing you up. Please check your email address, and try again.