Mini Flower Bouquet
Create this Flower Soft Bouquet from Flower Soft to decorate everything from cards to scrapbooking. This bouquet can add a touch of spring to your Mother's Day cards while adding a personal touch. It can even help you save money on scrapbooking decorations!
Materials:

One pot of Spring Flower Soft™

Flower Soft™ Wires


Blank Card



Narrow Ribbon


Sheet of Tissue paper

Sponge

Scissors for cutting Soft Wire


Flower Soft Glue

Preparation:

Take some of your Flower Soft™ and place it in a dish so that you can get your fingers in and fluff it up.

Place a sheet of paper over your working area to collect any spills of Flower Soft™, which can be returned to your pot later.

Cut a piece of tissue paper into 2inch square approx.

Cut your Flower Soft wires into 2-inch strips


Step 1

Cover the end half inch of the wire with Flower Soft glue. It is VERY important to use the correct thick high tack glue as some PVA glue's are too runny resulting in the flowers not sticking correctly.

Step 2

Whilst the glue is still wet hold the wire over your Flower Soft™ and sprinkle over, whilst turning the wire. It's important not to twirl your wire around the dish as if you were making candy floss as this removes the glue and can cause lumps in the Flower Soft. Place your completed flower stem in your sponge/plastercine to dry (20-30 minutes). Repeat to make enough stems for your bouquet, (five or seven is usually enough).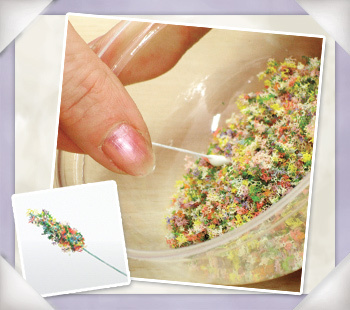 Step 3

Take the tissue square and fold corner to corner to make a triangle. Roll into a cone as if making a mini-icing bag. Dab a bit of glue at the back to secure.
Step 4

Gather together your stems and hold in a tiered display. Now cut the bottom of the bunch off so that the end is roughly the same level, and keep hold of them.

Step 5

Dab some glue around the bottom and place your bunch of flowers inside the cone. Allow drying.

Step 6

Decorate your mini bouquet with ribbon (2mm silk works best for tiny bows) and your ready to embellish your card/scrap page/dollshouse or craft project with realistic flowers. For a nice touch use ribbon to create a border for your bouquet to sit inside.

Your Recently Viewed Projects
Join our community of 5 million crafters!
Get free craft projects, exclusive partner offers, and more.
Thank You for Signing Up!
There was an issue signing you up. Please check your email address, and try again.