How cute is this little Button Ring from Amate Studios? With some vintage buttons and brads, you can make colorful and unique vintage rings and jewelry. Buttons are great for crafting because they're fun to mix and match.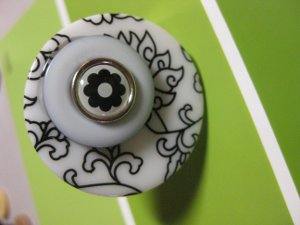 Materials:
Amate Studios Designer's Collection Flat Rings
Making Memories brand Brads and Buttons
E6000 Glue
Wire nippers
Small container with rice or beans in it

Instructions:
Place a dot of E6000adhesive on the ring base, and press large button onto base, centering.

Select spot for a second button, add a dab of E6000 adhesive to the back of the second button and press into place on the large button ring base.

Finally, select a decorative brad, with wire nippers, cut off the prongs on the brad and push remaining sharp points into the back of the brad. Add a dab of E6000 adhesive to back of brad, and press into the center of the second button.

Set ring into a small container with rice or beans to help ring stay flat for drying.

Allow 24 hrs to completely dry.

Your Recently Viewed Projects