FloraCraft Make It: Fun Foam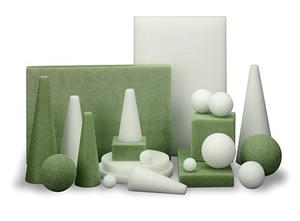 FloraCraft® Make It: Fun® Foam
Sponsored by: FloraCraft
www.floracraft.com
Reviewed by Dana Byerwalter, Editor, FaveCrafts.com


Prepare to be impressed by the variety of craft projects you can make with FloraCraft® Make It: Fun® Foam. Every project needs a base, and FloraCraft® Make It: Fun® Foam is the sturdy and versatile must-have option for your DIY decor, art projects, crafts, and more!



Make It: Fun® Foam comes in a variety of shapes, sizes, and colors. Green foam is perfect for silk floral arrangements while white can be used for a variety of additional craft project types. Speaking of shapes, the block shape is a great option for many standard projects. It can be cut down to size as a base in containers, and it can also be used for sculpting! I once cut a heart shape from the middle of a flat square foam block, and after wrapping burlap around the outside I had a lovely new wreath. Artists and crafters alike will find versatility in sculpting and carving with FloraCraft® Make It: Fun® Foam.

Another popular shape is the foam ball. Check out this Frozen Succulent Planter you can make using the foam balls! The iconic projects that come to mind when considering this shape are the solar systems that kids made in grade school. As with the blocks, this shape is excellent for carving and sculpting.

Their wreath forms are a particular treat. Rather than making wreaths with a wire frame or from wrapped twigs that are heavy and can poke you, consider using a foam wreath form. Hanging wreaths and taking them down before and after the holidays is so much easier when the wreaths are lightweight!

I've hardly scratched the surface on all of the projects you can make with FloraCraft® Make It: Fun® Foam, but I'm sure you can come up with a few ideas yourself! This iconic craft material has been used for decades and will certainly be used for years to come.
Your Recently Viewed Projects